<!ARComplexity Theory, action, systems science, synergy, positive-sum, negative-sum, fitness, evolution, connectivity, cooperation, sustainability, pragmatism, values, needs >


Complexity Theory: Actions for a Better World
"Complexity in action is a hundred, no, a thousand, no,
a million times greater than complexity in theory."


(paraphrase of an old Taoist meditation saying)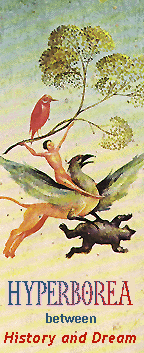 Prologue: Looking the Other Way
Creating a new systemic science is a necessary, but not sufficient, step in moving forward the quality of our world. Historically, all real progress has needed a further step. That step has been the employment of the knowledge gained by science to make differences in our lives. In the previous three waves of non-systemic science these improvements have taken materialist form, we have had the industrial revolution, the technological revolution and currently have the information revolution - all these have required us to create new devices, whether production machines, new materials or communication systems, freeing us from labour, from need and from ignorance. At least, that is the theory - the practice is rather different for most people, especially those in the developing world, but increasingly the affluent also ! From psychologist Abraham H. Maslow:
"Perhaps even more shaking, certainly for the psychologist, has been the recent discovery that affluence itself throws into the clearest, coldest light the spiritual, ethical, philosophical hunger of mankind. (This is so because striving for something one lacks inevitably makes one feel that life has a meaning and that life is worthwhile. But when one lacks nothing, and has nothing to strive for, then...?)"
Religions, Values & Peak Experiences (1970), Chapter V
The New Revolution
"No great inprovements in the lot of mankind are possible, until a great change takes place in the fundamental constitution of their modes of thought."

John Stuart Mill, Autobiography (1873), Chapter 7
The 'fourth wave' is of a very different order, and whilst it will transform our materialist societies, it is essentially a mental revolution, a freeing of our outdated mindsets from the tyranny of the past, a science of meaning and of natural values. This inward looking revolution will free us from division, it will break down our alienation from each other, from our planet and from our heritage. It can replace conflict with cooperation, dualism with integration, uniformity with diversity and control by self-organizing efficiency.
In terms of productivity this wave will far exceed all the others combined. As scientist and philosopher Alfred Korzybski said way back in 1920:
"But we have these 1,600,000,000 living men [physical agents]; 10,000,000,000 living man-powers of the dead [accumulated knowledge]; and 1,600,000,000 sun man-powers [potential energy]: that is indeed a tremendous power to PRODUCE WEALTH FOR ALL, IF WISELY DIRECTED, but to-day it is ignorantly and shamefully misdirected, because human beings are not treated in accordance with their nature as the time-binding class of life."
Manhood of Humanity (page 135)
State of Our World Report
In the 80 or so years since this statement, the population of our Global Village has grown from 1.6 billion to some 5 billion souls and the world environment has degenerated considerably. It is not to our credit as a species that as of 1997, in the data assembled by the What the World Wants Project:
"Globally between 13 and 18 million people die each year due to starvation. Over 17 million people die each year from curable diseases. Over 123 million people have been killed in wars since World War II. More than 800 million people are considered malnourished by modern health standards. More than a billion people lack access to any health care. There are 1.75 billion people without adequate drinking water. A billion people are without adequate housing, and 100 million are homeless. Nearly a billion people are illiterate. Three billion people lack adequate energy. Currently there are 79 armed conflicts going on around the world and 110 million landmines killing a million civilians since 1975. Some 26 billion tons of topsoil are eroded each year and 28 million acres of rainforest lost. Deserts advance at nearly 15 million acres each year. There is a 6 million square mile hole in the Earth's protective ozone layer. Over 122 million acres of forest have been damaged from acid rain in Europe alone. There are 31,000 hazardous waste sites in the US alone and 130,000 tons of nuclear waste poisonous for another 100,000 years."
Synthesising Whole Systems
This action section of our website will list practical suggestions for using the ideas of complexity science and related areas to counter the ignorance, hate and violence that are so destroying our heritage, our societies and our planet. And note that these problems are all mental ones, they are problems of 'thought' and not of 'things', the result of inadequacies in our collective mental states, of our approach to life, our lack of wisdom, not of the inherent inadequacy of our material possessions. Our approach will be to look at 'whole systems', but this will require a far more wide ranging perspective than those we normally label as 'science', taking into account also philosophy and spirit. Any whole system comprises an holarchy, i.e. many nested and overlapping sub-systems, these are all important components of the totality that we wish to improve, so that it is essential that all these aspects are included, we will have no 'blinkered' perspectives here, no reductions to one dimension out of the many that concurrently exist, no divorce of psychology from sociology, of economics from ecology, not even of philosophy from science, or science from religion ! From physicist David Bohm:
"The essential new quality implied by the quantum theory is... that a system cannot be analyzed into parts. This leads to the radically new notion of unbroken wholeness of the entire universe. You cannot take it apart. For if you do, what you end up with is not contained within the original whole. It is created by the act of analysis."
Wholeness and the Implicate Order (1983), Whole Systems
This suggests that if we wish to understand the whole then we must take into account how all these analyses interrelate, how our abstract slices fit together to create the overall result and how that can change dynamically, and this is just the form of synthesis undertaken by the systems sciences. But to understand the implications of this wider viewpoint, we must start with thought itself.
---

One Planet and One People
"If you want to change the world first try to improve and bring about change within yourself. That will help change your family. From there it just gets bigger and bigger.
Everything we do has some effect, some impact."

The Dalai Lama
Book of Daily Meditations (1998)



The World is Movement
So, What's Wrong With the Way We Think ?
"Till now man has been up against Nature,
from now on he will be up against his own nature."

Denis Gabor (1900-1979), Inventing the Future
Our thought patterns reflect our education and the cultural priorities of our society. Whilst we often take these as givens, they can be usefully questioned. If we do this some surprising conclusions follow. A little introspection shows us that we are often over dogmatic and simplistic, we adopt rationally unsustainable positions, we attempt to implement our views by force, we never question our assumptions and we take everything to blinkered extremes. From Milton Rokeach:
To say that a person is dogmatic or that his belief system is closed is to say something about the way he believes and the way he thinks - not only about single issues but also about networks of issues. The closed mind even though most people cannot define it precisely, can be observed in the 'practical' world of political and religious beliefs, and in the more academic world of scientific, philosophic, and humanistic thought. In both of these worlds there is conflict among men about who is right and who wrong, who is rational and who is rationalizing, and conflict over whose convictions are dogmatic and whose intellectual... The relative openness or closeness of a mind cuts across specific content; that is, it is not uniquely restricted to any one particular ideology, or religion, or philosophy, or scientific viewpoint...

Further, an individual whose intellectual or belief systems are poorly integrated may harbour logically contradictory beliefs. In everyday life we note many examples of 'double-think': expressing an abhorrence of violence and at the same time believing that it is justifiable under certain conditions; affirming a faith in the intelligence of the common man and at the same time believing that the masses are stupid; being for democracy but also advocating a government run by an intellectual elite; believing in freedom for all, but also believing that certain groups should be restricted; believing that science makes no value judgments, but also knowing a good theory from a bad theory and a good experiment from a bad experiment...

A person sometimes judges as 'irrelevant' what may well be relevant by objective standards... Often enough, though not always, the judgment that something is irrelevant to something else points to a state of isolation between belief and disbelief systems. It is designed to ward off contradictions and, thus, to maintain intact one's own system."
Human Potential and Development Project, Psychological Bias
In all these areas we remain unaware of the wider systemic effects of our actions. For example, as facilitator Matthew Webb says of economics:
"Consumerism demands the blind faith of its followers, even at the expense of their own welfare and the well being of their children's children. Its price is the destruction of health, sanity and good relations among people in the form of greed, anxiety and defensive of Truth itself upon the altar of egotism. The following is a list of the basic tenets of materialism to which we are expected to adhere. To question them is considered the act of the heretic, the insane fool and the undesirable pessimist, but of course this is exactly what the intelligent person must do. We are expected to believe:

That good living is defined by the amount of money earned.

That the more expensive an object is, the more valuable it is assumed to be.

That the presentation of image is more important than reality.

That success in life is literally defined by money and social position.

That whatever the majority believes as true, defines the nature of Truth itself.

That government, religious institutions and others of 'official expertise' know what is right for us, to a degree that is well beyond our own comprehension or experience.

That human kind is above nature and does not need to observe natural laws, but only the laws of its own making. When an idea is made law then it is instantly justified. When an idea is made illegal it is instantly disgraced.

That the items to be bought by money are more desirable than what we already possess or can cultivate in our own selves, even more so than spiritual growth, clarity, wisdom, good will, love, happiness or any other natural consideration.

That the public has a general lack of intelligence which makes it incapable of being self governing, which implies that it must be controlled and guided, by propaganda or force of arms if necessary."

The Survivalist's Guide for the New Millennium , Chapter 1
What Can We Do About It ?
Given the manipulative biases within our current societies, any scientifically inclined person must feel a profound sense of unease today. Indeed this sense of 'something seriously wrong' has pervaded the minds of most people, even if at a largely unconscious level. How then are we to address this problem, when our leaders seem too insensitive to respond to public feeling, and could even be said to be exacerbating the issues ? For example, from entrepreneur Paul Hawken on the single minded pursuit of free trade at any cost:
"There were no public hearings, dialogues, or education. What passed is an Agreement that gives the WTO the ability to overrule or undermine international conventions, acts, treaties, and agreements. The WTO directly violates 'The Universal Declaration of Human Rights' adopted by member nations of the United Nations, not to mention Agenda 21."
A Report from the WTO/Seattle Conference (2000)
Firstly we must explicitly bring the issues into consciousness, despite cultural propaganda not to do so. Only by rationally questioning our social assumptions and priorities and by actually facing the resultant problems can we then begin to solve them. Secondly, we must make use of the best scientific knowledge we have regarding systems (of which the World is one) and how these really work (as opposed to those inadequate myths still embedded in our non-systemic academic beliefs). Thirdly we must change ourselves. We cannot change the world for the better by continuing to employ those techniques that generated the worst aspects of our current reality, as Einstein said: "problems can't be solved within the mindset that created them".
From economist Hazel Henderson:
"We should not be surprised that the enormous changes of the past 25 years, accelerated by globalization, have left whole societies and their leaders with their paradigms down. We are still operating on old metrics measuring vanished territory, using old statistical cameras focused on obsolete targets and irrelevant goals...

28 percent of US citizens are 'down-shifting' - a form of 'tuning out' this dominant culture of information overload and costly mass consumption oriented value system. They are choosing more free time and less money income and moving to quieter, less expensive, rural towns where life is slower and communities are still intact. Consumers are seeking their own (not advertisers') definitions of 'quality-of-life'...

Expanding to a multidisciplinary focus for both domestic and globalization policies can reveal all the positive-sum, 'win-win' games, the new public/private/civic partnerships and new strategies that can help all actors imagine, develop, and build toward a win-win world in the next century."
Quality of Life: Issues and Questions (1998)
We will be presenting some ideas to help address these areas further on, based on complex systems science, however, to help prepare for later concepts, you may wish to try the social suggestions in our Millennium Essay,
Or Steven Lewis's wisdom based TIme-Binding Ethics
Look at ways to improve our thinking in:
General Semantics: A Critical and Meta-Critical System - Milton Dawes
Applied Systems Thinking - Curt McNamara
Three Principles Behind All Tools for Creative Thinking - Paul E. Plsek
Fuzzy Logic & General Semantics in Everyday Life - Susan Presby Kodish and Bruce I. Kodish
and for background: 7 Valuing Processes and the Dilemmas they contain
For a more personal action plan see our: Freeing Our Wild Side
and General Semantics and the Practice of Awareness - Milton Dawes
or the many mind improvement techniques of Project Renaissance - Win Wenger
Run you own brain perhaps with Neuro-Linguistic Programming or use
A Psychosynthesis 12-Step Program for Transforming Consciousness - Michael Brown
Maybe search for enlightenment with The Induction - Franklin Merrell-Wolff or those really keen could attempt the definitive and extensive Way of Mindfulness compiled by Soma Thera

If you are interested in the development of kids see Head Start's book
Enhancing Children's Thought and Development

especially the summaries in the Appendices.
And for fighting our self-delusions read Gary Crawford's:
A Personal PsychoSpiritual Analysis using 'Conference of the Birds'
Focused on combating hate and violence are :
4 Paths To Peace
Visions of the New Millennium: Global Peace through Meditation - Sant Rajinder & Singh Ji Maharaj
Nonviolence in the 21st Century: Challenges and Choices - Arun Gandhi
64 Days, 64 Ways To Practice Nonviolence
There are lots of groups working for a better world, some of them using the inspirations arising from complexity science and systems theory, see for example some of the 'alternative philosophies' featured on our Miscellaneous page.
So What Is Complexity Theory Anyway ?
This scientific theory relates to what happens when rich interactions within a system (a dynamic collection of interconnected parts) allow it to self-organize, i.e. to 'do its own thing'. When this occurs complex structures are predicted to form which will continually evolve over time into new structures. Generally these processes are expected to generate hierarchies of novel system-maintained properties that cannot be predicted from studying the parts only. For this theory to apply, we usually expect the system to contain modular parts and autonomy, to be critically connected i.e. neither static (with disconnected parts) nor chaotic (with overconnected parts) but arriving at a state in-between (called 'edge of chaos'). The evolution can occur through random mutation, through internal learning or through selection by trial-and-error interaction with its environment (often all three). The system will then be expected to generate many semi-stable states called attractors, the current system state is defined by which attractor is active and future states by possible trajectories between available attractors. A considerable body of research backs up this new science (we overview this in our Introductions, Online, Related and Offline papers, Links, Tutorial and Applications pages). There are several thousand academic researchers worldwide, from all disciplines, informally pooling the systemic knowledge upon which the developing suggestions on this page are based. A Glossary is available for those unfamiliar with complex system terms.
How Does Complexity Theory Suggest We Act ?
To better approach this question let us start by outlining our understanding of the 11 basic laws of systems thinking proposed by Peter Senge in his book the The Fifth Discipline (1990) followed by some complexity science additions of our own:
1. Today's problems come from yesterday's solutions

When we implement a simple one-dimensional solution (taking the 'obvious' answer), we usually create related problems in the other dimensions that are being ignored. All complex systems have multiple dimensions or attributes which interrelate and cannot be treated in isolation. The problem resurfaces in a different guise because we don't understand the real systemic cause, and have only tried to 'cure' one resultant effect, a 'symptom' based approach to systemic 'medicine'.

2. The harder you push, the harder the system pushes back

This relates to feedback paths, a necessary feature of all complex systems, which exhibit a multi-path circular causality rather than the linear separated cause/effect of conventional thinking. Thus, if we act, the effect will come back upon us, the stronger our action the more we will disturb all the system variables and the more unpredicted effects there are to return to us ! We can't act as if we are isolated outsiders since we ourselves are part of the system being changed.

3. Behaviour grows better before it grows worst

If we only measure the one dimension that we change, then we miss the growing problems caused by our inadequate 'solution'. We need to monitor all dimensions of the problem in order to detect interdependencies of which we are currently unaware. Failure to do this is like the 'ostrich syndrome', burying your head in the sand may seem to make things better - but only for a while !

4. The cure can be worse than the disease

Believing in our 'cure' we can mistakenly continue escalating the 'dose' if it seems not to be working, when we are by that act escalating the problem instead. This is a form of positive feedback and results from holding dogmatic beliefs in untested assumptions (based upon simpler systems) which actually do not apply in these complex systemic cases.

5. The easy way out usually leads back in

Failing to understand the system interconnections will allow unexpected side-effects to appear. Eliminating an obvious apparent 'problem' can also eliminate necessary features of the system, which depended upon some aspect of the parts removed, thus causing the system to become even worst !

6. Faster is slower

Trying to force the issue will not permit the system to settle to an attractor in its normal way, chaos will develop as unexpected parts of the system break down under the strain. Only a certain rate of change can be absorbed by humans, and we can only monitor a restricted number of variables effectively. Instant solutions just create more instant problems...

7. Cause and effect are not closely related in time and space

Systemic changes percolate in space throughout the system. This takes time, sometimes considerable time. Impatience prevents the consequences of the change being understood - or even detected over time once the 'perpetrator' moves on. The circular causality is not one to one, but multi-step chains of often gradually acting communications, before the system arrives at its revised steady state.

8. Small changes can produce big results - but the areas of highest leverage often the least obvious

The butterfly effect ensures that well targeted changes can escalate, so massive interactions are unnecessary. We just need to determine which variable(s) to change and leave time for the effects to occur. This requires knowing how the system is interconnected, and often proves counter-intuitive. As System Dynamics researcher Jay Forrester says:

"The intuitively obvious 'solutions' to social problems are apt to fall into one of several traps set by the character of complex systems. First, an attempt to relieve one set of symptoms may only create a new mode of system behavior that also has unpleasant consequences. Second, the attempt to produce short-term improvement often sets the stage for a long-term degradation. Third, the local goals of a part of a system often conflict with the objectives of the larger system. Fourth, people are often led to intervene at points in a system where little leverage exists and where effort and money have but slight effect."
World Dynamics (1971)

9. You can have your cake and eat it too - but not at once

Most good solutions are not of an either/or dualist sort, instead there are many solutions that can employ the both (cooperative) or neither (diversity) options which also exist in state space. Creative thinking, considering all aspects of the system (them as well as us), can help identify these wider ranging solutions, which often solve several problems at the same time.

10. Dividing an elephant in half does not produce two small elephants

Artificial divisions discard important interconnections, the whole cannot be reduced to independent simplified pieces in complex systems - only in simple aggregates. Attempting to do so destroys the integrity of the system, leading to massive losses of those synergistic properties (value-add) that the system associations have previously generated.

11. There is no blame

Because there is no 'cause' to blame, since all participants coevolve and are each both cause and effect. Blaming others blames yourself also. Constructive action not vengeance is required - there is only ONE system, the whole, which must be treated in its entirety if any 'solution' is to be a viable long term improvement.

Now our own additions:

12. Participants act autonomously

Humans have their own goals. Trying to force conformity by assuming all parts are identical destroys the value-add inherent in the 'system' concept. This 'control' stagnates the system and makes it ineffective and unresponsive to problems. Self-interest will always work to undermine such badly conceived systems.

13. As ye sow, so shall ye reap

Actions can have negative or positive effects on different system attributes. Each effect will grow with feedback, taking the whole system down their resultant paths. If this is negative when summated then the system will disintegrate over time (die), improvement can only result when feedback incorporates overall positive actions (e.g. love not hate).

14. Two rights make a wrong

The nonlinear nature of complex interactions under feedback loops means that we cannot linearly add effects. At some stage each 'good' becomes a 'bad' as we exceed tolerance boundaries and start to degenerate the fitness of the whole (e.g. overeating). Compromise solutions are essential, rather than maximising any variable in isolation - which proves to be sub-optimal in complex systems.

15. One plus one equals five

The mathematics of zero-sum (1+1=2) does not apply in complex systems. Here we combine parts explicitly to gain advantages due to cooperative efficiency (division of labour). It is failure to recognize these existing emergent properties that invalidates reductionist 'part-based' solutions, which always ignore these inherent advantages since normal mathematics is inadequate to incorporate them !

16. The system controls us

The boundaries that constrain our actions are self-generated by our collective beliefs. We create the systems by which we live. We set the rules by which any social norms arise. If they fail to achieve the desired results, then we can change them by simple belief alterations, by how we use words. The material world is irrelevant to this process, which is based upon abstract teleological considerations.

17. Change is always expected

Any complex system experiences fluctuations, both large and small. These are only problematical if our thinking is static, expecting a 'fixed world'. Dynamic systems require dynamic thinking, which accepts diversity and freedom as essential elements of a system that can absorb change without damage - and even benefit from it.

18. All levels drive the result

Considering the whole means not only including all the objectives of a particular level (e.g. company) but all the nested levels that create and sustain that system. These include material, environmental, primal, social and abstract needs. Each has many variables that can be affected by bad decisions, and as these levels are interdependent they are all necessary for the ongoing support of the whole and of the many interacting sub-systems that make it up.

19. It's a can of worms

Because many autonomous variables exist, attempts to centrally control systems by manipulation of a few selected variables are doomed to failure. The only way to prevent some 'worms' escaping is suppression by force - closing and sealing the 'can'. In other words, simple imposed answers to complex changes are not viable survival strategies. We must decentralise control instead.
---
Putting Theory into Practice
Recognising the Wider Picture
"The Brain is wider than the Sky
For put them side by side
The one the other will contain
With ease and You beside."

Emily Dickinson, No. 632,1862, st. 1
Humans are complicated creatures, despite our liking for over simplifications. In any situation there are many values that are relevant to our lives and many options that are possible. We thus form a system, which is enmeshed in the larger social systems of our culture. Despite this somewhat obvious point, as a species we are guilty in almost all our interactions of denying the systemic nature of our local and global environment and basing our judgements on dogmatic 'facts'. This is what cybernetician Stafford Beer called in 1996 the 'The Culpabliss Error', he writes:
"We have however been discussing a very special form of ignorance. This is the ignorance of consequence, which, according to my examples, has really no excuse. That this kind of ignorance is so common is due, I have been contending, to the pervasive use in society of a faulty ethical construct - one which has no systemic referent. And whether it was Aristotle's fault or not, the fact is that the faulty model is deeply ingrained. So a huge effort will be needed to dislodge it. An understanding of the way systems behave, and of the underlying principles they obey even when they are probabilistic systems, has to be developed in the public consciousness. It is not that the knowledge does not yet exist: it is called cybernetics. I myself have been an advocate on its behalf for forty years. So perhaps the way forward is to make it clear (as I am attempting to do here) that although ignorance is bliss it may yet be indefensible.

Thus I offer you a new word: culpabliss. It means culpable ignorance of consequence. Culpa is the Latin word for fault, and ignorance is bliss - an acronym for BLind In Systems' Sensibility."
Freeing us from Labour
"Perfect freedom is reserved for the man who lives by his own work,
and in that work does what he wants to do."

Robin George Collingwood (1889-1943), Speculum Mentis
Why do we work ? From necessity or love ? If the former, then our world is failing us, we are being exploited, being made slaves for the benefit of others. The ethic that work is a 'good thing' is a throwback to a Victorian mentality of puritanical pain and denial of our humanity, an ethic that is so far removed from the reality of our human nature as to be pathological. Humans are creative, they are not machines, nor are they 'sinners' that must be made to suffer 'hard labour' for the redemption of their 'soul', a sort of authoritarian Hell on Earth. Toil is for dumb machines not for thinking creatures - to create is to think, to think we need inactivity not action. If we are to free the creativity of the masses, we must free them from work, from useless and mind deadening toil, from control from outside, from regulation, from hate, from constraint. Only then are we likely to grow as individuals, only then can synergistic considerations resulting from free association transform our world. We can reasonably say today that our politicians have failed us, our bosses have failed us and our institutions have failed us. We, the people, surely can do better (we could hardly do worst !) ? Restoring power to the people will not be easy, those that currently hold it are blinkered by their own selfishness and dualist thinking, they are as ignorant as the masses and for the same reason - the one-dimensional non-systemic you or me view of life. Freedom to enjoy a creative life is crucial to our humanity, as psychologist Erich Fromm says:
"Freedom means many things to many people. Do we mean by freedom, a freedom from - freedom from drudgery, from monotony, from the stupidity of manual work, freedom from the irrational authority of a boss or foreman, freedom from exploitation? Or, on the other hand, do we mean a freedom to - freedom to participate actively in the work process or freedom to enjoy work? Actually our concept of freedom today is essentially a negative one It is freedom from and not freedom to, because we are mostly concerned with what we are against and not what we are for - against whom we should defend ourselves rather than what we are living for."
Freedom in the Work Situation (1959)
Freeing us from Need
"Nothing was made by God for man to spoil or destroy."

John Locke (1632-1704), Second Treatise on Government
Breaking this confrontational either/or delusion allows us to recognise that the world has more than enough resources for all the inhabitants if we transform the way we use them. Instead of using resources to destroy other resources, e.g. in war (material), competition (people), advertising (truth), politics (freedom) we can instead adopt a cooperative philosophy, mutual aid. A way of life that actually reflects that of nature, in spite of the competitive delusion often projected onto our unsuspecting animals and plants. This is an absolute, synergic, view of systemic fitness rather than the relative, part-based, view adopted by competitive thinking. As Peter Kropotkin said in 1902:
"Two aspects of animal life impressed me most during the journeys which I made in my youth in Eastern Siberia and Northern Manchuria. One of them was the extreme severity of the struggle for existence which most species of animals have to carry on against an inclement Nature; the enormous destruction of life which periodically results from natural agencies; and the consequent paucity of life over the vast territory which fell under my observation. And the other was, that even in those few spots where animal life teemed in abundance, I failed to find -- although I was eagerly looking for it -- that bitter struggle for the means of existence, among animals belonging to the same species, which was considered by most Darwinists (though not always by Darwin himself) as the dominant characteristic of struggle for life, and the main factor of evolution."
Mutual Aid: A Factor of Evolution (Introduction)
Additionally we must start to recognise that 'needs' do not refer only to materialistic aspects of our world. People, as a species, have many needs that transcend mere objects. These higher level needs (or 'metaneeds') are those that are currently ignored by our scientific processes, yet science itself - the need to 'know', i.e. curiosity - is in fact one of those abstract values (along with beauty, play, love, etc.) to which we refer ! What people want is to be treated as human, with all our human characteristics intact, and not to be reduced to caged animals who can be placated and kept subservient by minimum hand-outs of survival necessities. 'Productivity' relates to producing all our needs, not just those concerned with 'things' and 'profit'.
Freeing us from Ignorance
"Real education must ultimately be limited to one who insists on knowing,
the rest is mere sheep herding."

Ezra Pound (1885-1972), ABC of Reading, Chapter 8
Educationally the world still lives in the 18th Century, a fantasy Newtonian scenario of disjoint parts and dualist logic, disproved (even in physics) nearly 100 years ago. Our schools, further education and academic institutions remain locked in a straitjacket of specialist subjects, of objects, of 'facts', of reductionism. From statistician Vasily Nalimov:
"Words, on which our culture is based, do not and cannot have an atomistic meaning. It has become possible and even necessary to consider words as possessing fuzzy semantic fields over which the probabilistic distribution function is constructed and to consider people as probabilistic receivers"
Global Strategies Project, Pattern Learning: Probabilistic Vision of the World
In reductionism the interconnections between subjects are lost, and with them all those higher level fuzzy values that make our world interesting to humans, those associations that cannot be 'collected', classified and stored in museums. We have created a static world, a dusty collection of isolated fossils, gradually decaying before our eyes. This is the worldview we are still teaching to today's children, the force feeding of conformity, of authority, of outside expertise, of fixed 'knowledge' that does not in any way fit the actual, multiple interacting values, of the world we inhabit. That world is one of accelerating change, of global interconnectivity, of multiple cultures, of literate people, of concern for the wider, cross-boundary, issues. If the models used by our bureaucracies (whether academic, political or business) cannot cope with such dynamic ideas then we need to replace them, not try to control humanity to fit those historically outdated boxes. And make no mistake whatsoever, all the knowledge and expertise to do this is already available (and in some cases has been for hundreds of years !), we are not talking some futuristic fantasy here. What is lacking is only the openness to recognise and employ any alternative systemic viewpoint. Again from Stafford Beer:
"Models are necessarily massive variety attenuators, because they select only those aspects of the world that are relevant to the model's purpose. Worse still, the models adopted are not the best that we can provide: they are consensual models put in place and held together by ideologies. And an ideology is a very low variety instrument indeed. Vast tracts of political philosophy since the ancient Greeks have been studied in common by the theorists of both communism and capitalism; but the ideologies to which the two superpowers rallied their supporters attenuated this variety in different guises. They have had this much in common: neither had Requisite Variety (as defined by Ashby's Law) by which to manage. Both are managerially dysfunctional therefore. And neither works.

To the political analyst, the two management systems are quite different, and to the politician wholly opposed. Neither side has had the least compunction in imputing moral judgements, and the rank and file have loved it. They have gone to both hot and cold wars about it. To the cybernetician, oddly enough, and starting from that common ancestor, the coenetic variable, much the same process has been going on. In a word, it is dysfunctional over-centrality."
World in Torment: A Time Whose Idea Must Come (1992)
Freeing us from Division
"The most persistent sound which reverberates through man's history
is the beating of war drums."

Arthur Koestler (1905-1983), Janus, prologue
Systems viewpoints (of which cybernetics is one) take into account interconnections, the way in which systems change over time, how they flow from one state to another. Within such a system we cannot maintain divisions, there is no 'us' and 'them', all is one. Thus viewing our world as a system allows us to cease regarding ourselves as 'separate' from nature, 'separate' from each other, 'separate' from our history. Such separations are the manifestation of an historically destructive conflict-based approach to all such issues. If any part of a system fights the rest of the system then the whole must be damaged, it must lose efficiency. These losses are obvious everywhere we look in our world. To avoid these losses is very easy. We simply stop 'thinking' of everything different as 'opposed' to us. Once we do this, and consider the 'other' as simply another part in the same system then we can begin to move forward and consider how we can better cooperate with that 'other' to improve the system of which we are both parts. Integrating our views gives us double the mind power of each of us separate - a 100% increase in efficiency right away ! As we each have separate experiences, we can see that this gain can only be maximised if we are in fact totally different, thus diversity is far better than the bureaucratic conformity so loved today. Again, we can see that if we allow one of us to control the other, then this efficiency gain is lost. We have snubbed out the potential gain. Instead we need to allow all the 'parts' freedom to self-organize. In this way we can make use of all the inherent systemic combinations and their possible benefits. This synergic viewpoint takes advantage of the fact that you can help me to do what I cannot do alone and vice-versa, thus we both benefit by our association. Extending these ideas to the whole world allows this systemic mode of thought to 'bootstrap' the gains enormously, reversing mankind's destructive effects on our world and establishing instead a sustainable reality. In education we praise rightly the teaching of the 3 R's (Reading, Writing and Arithmetic), for the 21st Century our schools need to add also the 3 S's :
Systems
Synergy
Sustainability
---
Time to Breathe
"The notes I handle no better than many pianists.
But the pauses between the notes - ah, that is where the music resides !"

Artur Schnabel, Chicago Daily News, 11 June, 1958
We have presented a lot of information so far. Information overload is one of the main problems in our world, so now I ask you to take a break. Stop thinking, stop feeling, stop doing. Please put your life on 'pause'. Wait for 5 minutes in complete silence, just contemplating this mandala perhaps and breathing deeply and evenly.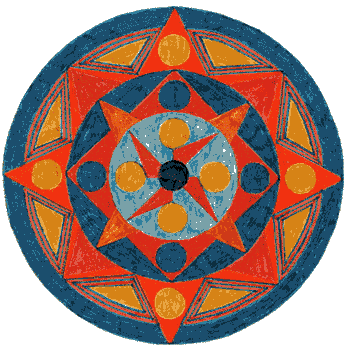 We are often brainwashed to believe that if we are not 'doing something' every minute of every day then we are wasting our lives. Quite the opposite is in fact true, crassly chasing 'things', 'thoughts' and 'sensations' simply allows our lives to pass by unnoticed. We are not 'out-there', we are 'in-here' - a wisdom ignored for thousands of years. As Joseph W. Meeker puts it:
"Wisdom cannot be confined to a specialized field, nor is it an academic discipline; it is the consciousness of wholeness and integrity that transcends both. Wisdom is complexity understood and relationships accepted." Wisdom and Wilderness (1981)
Subtlety (achieving more with less) requires delicate systemic connections within our mind, something impossible to do if we continually crank up the volume. It is not accidental that 'genius' often occurs in sleep, for only here is the mind quiet enough to make the most of its talents. This it does in subconscious ways, yet by understanding this process we can create a conscious equivalent, a way of bringing genius into the lives of all and of making wisdom explicit in the 3 S's.
Four aspects contribute to our new ideas. Firstly we must have novelty, new possibilities or connections between old ideas. In sleep our senses are turned off, so our chaotic brain processes are driven mostly by random neuron firings. These perform the function of novelty generation, since random correlations between firings simulate new transient associations. The second aspect is relevance, here our inherent goals maintain a background activation that intensifies or selects relevant random associations. Thirdly this happens against a static background of all our other needs and associations, there is a context. And finally we have prediction, our dynamic ability to 'fast forward' our ideas to evaluate their future implications, their abilities to achieve our priorities (usually a conscious follow up to the 'eureka' moment). In all these aspects our values play a large part in directing our evolution and if we are to investigate these areas scientifically then we need to include values within our scientific methodology.

A Metascience of Values
In the deterministic science of simple systems it is usual that there be only one answer, this is the science of solutions comprising a single attractor, we thus do not need to consider values. Within statistical systems we can ignore what the many parts of the system are doing, since we abstract out only one overall emergent property to consider, again there is no conflict of values involved. Once we move into the area of complex systems however these techniques no longer succeed. Here we find that we have multiple possible solutions across state space and thus need some criteria by which to decide which solution is 'best', i.e. we need a method of evaluation. To go beyond 'value-free' science in this way we must first understand how our values originate and what they comprise. This was considered in a recent paper which observed (slightly expanded here):
"Our human needs (sets of values) can be placed into three main evolutionary groupings:

Primal or Basic Needs

These are those related to lower animal or plant behaviour, essentially concerned with the physical world and our physical existence. They include eating, drinking, breathing, growth, response, shelter/warmth, reproduction, security/survival, resting, waste disposal and health. They relate to the emergent properties of life itself and correspond to the lower two levels in Maslow's "Hierarchy of Needs", which he called 'Physiological Needs' and 'Safety Needs'.

Social or Interpersonal Needs

Moving up to a higher level we have the more sophisticated needs associated with the emergence of mind and community in the middle and higher animals. These add to the list such needs as communication, display, status, belonging, curiosity, stimulation, pleasure, mobility, play, comfort and forward planning (resource stockpiling and simple goals). These correspond to the middle two levels in Maslow's "Hierarchy of Needs", which he called 'Love, Affection and Belongingness Needs' and 'Esteem Needs'.

Abstract or Spiritual Needs

At the top of the needs hierarchy are those higher needs attributed to fully developed humans, and these are usually claimed to be applicable only to our species. They encompass, amongst others, arts, music, science, mathematics, religion, love, philosophy, truth, justice, ethics, history, beauty, compassion, sensitivity, companionship, equality, creativity, education, wisdom, unity, inner calm, insight or enlightenment, and freedom. These levels show the emergence of concepts of a non-material form, the higher levels of consciousness often explicitly excluded from science although they correspond to the same mode of thought as science itself. This level corresponds to the highest level 5 in Maslow's "Hierarchy of Needs", that of 'Self-Actualization Needs'.

Each of these groupings corresponds to different emergent levels in a complexity view (each may also contain sub-levels), and for a full scientific picture we should also include levels below and above this human centred viewpoint (the department store analogy [see later picture]). Traditional scientific fields have focused exclusively on single levels (e.g. physics, chemistry, biology, psychology, sociology) in closed systems, but if we are to take science into a new transdisciplinary era we must address the relationships between these levels, generating a multi-level scientific methodology where all the levels are regarded as open systems. Metascience, as defined below, is a viewpoint that does this, taking into account the personal, social and environmental effects of our actions as an holistic hypersystem, rather than in isolated chunks."
Value Metascience and Synergistic Choice (2000)
Transcending single minded views of the world, and encompassing all those multiple values (metaneeds) that make up the real human, requires a methodology that rises above those consciously adopted in both science and life. Neither area acknowledges the current need to take into account possible alternatives, full human goals, conflicting values or evolutionary consequences.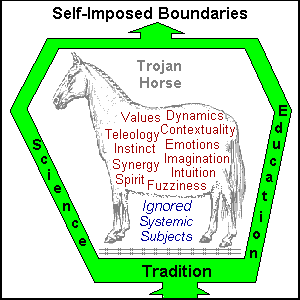 Yet we do not wish here to suggest yet another 'guru' style magic solution, no such process exists. Instead we need to outline a way to approach questions in a more systematic way, without presupposing any answers, in other words we need a scientific method that can encompass and treat these four missing elements.
This systemic extension to scientific thinking (which we call the 'Hypothetico-Deductive-Evaluative' or 'HDE' method) allows us to formalise these issues mathematically, but is sufficiently general to be usable without such rigor. Indeed it simply makes explicit the way in which our minds (also systems) work at an unconscious level in our day to day interactions with our world, in other words it includes those subjects within our 'Trojan Horse' that allow us to open the closed gates of our mind.
Let us look at these in more detail:
Alternatives (Imagination, Creativity, Innovation)
Here we look at the full scope of state or possibility space, rather than concentrating only on those options obvious from past experience or current viewpoint. All major progress in history comes from escaping our limited or blinkered worldviews and breaking through to innovative new perspectives. In complexity thinking this refers to escaping a local optimum and searching for better or global optima. It is the area traditionally associated with genius and specialises in discovering 'new' solutions to 'old' problems.
Multiple Interacting Needs

A Practical Integral Science
"History teaches us that
men and nations behave wisely
once they have exhausted
all other alternatives."
Abba Eban
A One-Dimensional Maths

Ignorance is Seldom Bliss
Goals (Teleology, Instinct, Emotions)
Humans, in common with most other animals and even plants, have preferred directions in life. We wish to navigate state space in non-random ways, in ways that improve valued aspects of our lives.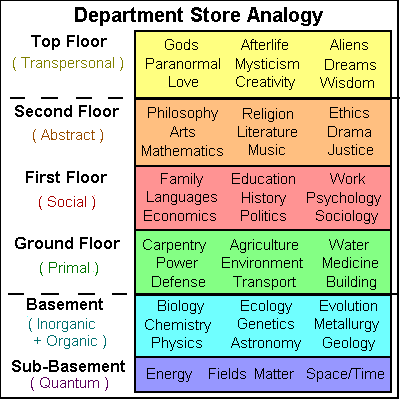 We see this in the use of science to create technological aids, to dominate and control the more random (and often disadvantageous) aspects of our environment. But our human goals are much wider, and comprise many alternative needs or desires, some conscious, yet many more (in our instincts and emotions) that are rarely acknowledged explicitly and reside deep in our psyche and evolutionary past. Here we try to identify the full range of our drives and inclinations so that we can better understand our inherent nature as a species.
Interactions (Values, Fuzziness, Synergy)
Our many needs or values cannot however be viewed in isolation, they often conflict so that maximising one usually forces others to be reduced. Understanding the interactions and interdependencies between needs is crucial to understanding the systemic viewpoint we propose. Here we need to determine the web of connections between all aspects of our lives and those of others, so that we can better understand the consequences of changes to any individual value, in the knock-on effects of those changes on the other values that we wish to preserve.
Consequences (Contextuality, Dynamics, Intuition, Spirit)
Working out these effects requires us to incorporate time or dynamics. We need to generate a viewpoint that integrates all the connections we have identified and determines whether the future evolution of the system will be, overall, a fitness change for the better (positive-sum) or for the worst (negative-sum). It is crucial here to see the wider picture and not to reduce decisions to single variables viewed in isolation (the mode of thought so common to politics, business and even science today).
Circular Causation Applies

Actions can Self-Reinforce
"Never doubt that a small group of thoughtful committed citizens
can change the world. Indeed, it's the only thing that ever has."

Margaret Mead

Multiple Interacting Levels

Including the Wider World
To apply the above HDE methodology we must first understand the dynamic nature of reality and the needs that we wish to satisfy.
The Dynamic Nature of Alternatives and State Space
The static viewpoints often encountered in science tend to assume that all the possibilities in a system are fixed. In other words that we can mathematically enumerate them and potentially derive their probabilities or fitnesses (as we do in quantum mechanics say). Yet this is only true for simple systems, where we assume that the parts are conserved. In more evolutionary systems such as biology and technology (when parts can be created and destroyed) this assumption fails. Here new discoveries expand the range of possibilities so state space expands (e.g. multicellular animals enabled dinosaurs as a possibility and later humans, semiconductor discovery enabled pocket computers). Even within the range of possibilities directly available with today's knowledge our alternatives are similarly wide open. No human can even approach the knowledge of all the possibilities in 'real' systems, they are too vast. The combinations available to say 10 humans, each with just 10 values and 10 resources exceed the number of atoms in the known universe ! Thus in any of life's situations, most of the possibilities and options for fitness improvement have so far gone unnoticed...
The Dynamic Nature of Goals
From a systemic viewpoint one of the most important realisations is that goals are not static things but dynamic processes. They ebb and flow over time. For instance here we see two primal needs hunger and thirst developing and being met over time.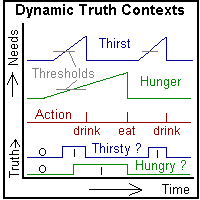 We are unaware of a need until it reaches a threshold of criticality (equivalent to the warning light on a car for, say, oil or petrol), this desire then increases in significance until we relieve it (or we die !). The relief is a step function by comparison, a fast replenishment of our 'tank'. But notice that needs can manifest simultaneously, they do not occur in serial fashion, thus it is inadequate to pursue only one at any stage, we must keep in mind all our requirements and how they vary with time. The idea of 'truth' is therefore a relative concept, it is only 'true' that we are hungry between the threshold and action times, and the same applies to any other contextual need. Thus 'truth' is a multidimensional concept and one which requires an explicit context and timescale to be defined at all.
Considering our primal (survival) needs, we have to realise that these can only be met in conjunction with our natural world. The provision of oxygen and the many other essential 'ecosystem services' requires a massive web of systemic processes involving thousands of essential steps and lifeforms. The value of this 'free' resource has been estimated to equal or exceed the Gross World Product, some 40 trillion dollars - a irreplaceable prop for our civilisation that needs to be properly factored in to our (currently unsustainable) economic models. It should be noted also that primal needs are not inter-changeable (i.e. having a surplus of air is no good if you have no water), so the usual economic technique of summing all resources to one 'bottom-line' cash 'equivalent' is an invalid way of accounting for these issues (3 x Air + 0 x Water is not better than 1 x Air + 1 x Water !).
The Dynamics of Higher-Level Needs
When we come to more social or abstract needs we find that they can remain unrelieved indefinitely. What effect does this have on us ? Well, for our primal needs this relates to lack of efficiency, the inability to function ultimately as a living organism. The same can be said to be true for our higher needs, each unrelieved need is a loss of fitness for the organism, an inefficient use of resources. It is surprising that with so much attention given to efficiency in machines that the efficiency of humans in these terms (other than as 'machine parts' !) is ignored. The losses for the world in total are staggering (if only 20% inefficient on average, this is equivalent to 1 billion man-years of productive effort per annum !), and this is not the only inefficiency, again from Paul Hawken (with Amory & Hunter Lovins):
"From a materials and energy perspective, the economy is massively inefficient. In the United States, the materials used by the metabolism of industry amount to more than twenty times every citizen's weight per day - more than one million pounds per American per year. The global flow of matter, some 500 billion tons per year, most of it wasted, is largely invisible. Yet obtaining, moving, using, and disposing of it is steadily undermining the health of the planet, which is showing ever greater signs of stress, even of biological breakdown."
Natural Capitalism (2000), Chapter 1
The failure to take account of such forms of wastage is why we need to radically revise science to enable it to deal properly with these omissions. The advantages of adopting a 'whole-system' approach to all resource issues are vast, efficiency increases by factors of between 4 and 100 times are not unexpected, along with countless knock-on benefits to our higher-level needs and overall quality of life.
Whereas primal needs exist automatically, as part of our genetic inheritance as animals, the higher needs only come into existence as part of our education and cultural upbringing. Thus the dynamics of these start out at zero and potentially increase in importance over time. We can relate these needs to all our other types of skills and realise that most people have the capacity to develop themselves in far greater ways than our societies currently allow - probably far in excess of the 20% figure used above ! The UNDP defined Human Development (1990) as:
"A process of enlarging people's choices. In principle, these choices can be infinite and change over time. But at all levels of development, the three essential ones are for people to lead a long and healthy life, to acquire knowledge and to have access to resources needed for a decent standard of living. If these essential choices are not available, many other opportunities remain inaccessible. But human development does not end there. Additional choices, highly valued by many people, range from political, economic and social freedom to opportunities for being creative and productive, and enjoying personal self-respect and guaranteed human rights. Human development has two sides: the formation of human capabilities -- such as improved health, knowledge and skills -- and the use people' make of their acquired capabilities -- for leisure, productive purposes or being active in cultural, social and political affairs. If the scales of human development do not finely balance the two sides, considerable human frustration may result."
Human Potential and Development Project, Social and Educational Biases
We thus have two levels of enquiry suggested here, firstly to ascertain how our societies enable such needs to develop in our educational systems (and importantly how this relates coevolutionarily to the meeting of our primal needs) and secondly to inquire how our lifestyles and institutions enable us to exercise and satisfy those needs in our day-to-day lives. The education issues will be addressed elsewhere, here we will concentrate on actions for quality living.
The Dynamics of Interactions
Unlike passive elements such as atoms or artefacts, active agents such as cells or people can direct their own interactions. Thus the connectivity of the system itself is a dynamic process and not a static map. How we interact with one another is one of the major defining features in a systemic view which determines how the system will behave. If we isolate ourselves then the system will tend towards a static state or fixed attractor, if we interact with everything around us then our world will tend to become chaotic and disintegrate. Maintaining an optimum state requires an adaptive form of connectivity that can adjust dynamically to the world around us, sufficiently self-contained to maintain stability and individuality (autopoietic) yet sufficiently responsive to our environment to benefit from the fitness improvements that can be obtained by the synergy of working together. As scientists Lloyd Fell and David Russell say:
"Autonomy means that the organism subordinates all changes in the environment to the maintenance of its organisation no matter how its structure may have to change to do this. It is said to be structurally coupled in that a structural congruence must develop with its environment for it to have any history at all. Rather than an organism passively responding to the environment we have a two-way interaction where the organism and its circumstances will continually change together."
An Introduction to Maturana's Biology (1994)
The Dynamics of Coevolution
When we are responsive to the world around us we naturally change our behaviour as a result of the feedback that we perceive to our actions. Similarly, if those with whom we interact have a similar awareness then they also will change in response to the feedback we give to their actions. This is the essence of coevolution, the mutual responses of two or more interacting systems. Where our mutual responses serve to improve our respective fitnesses then we have a positive-sum (win-win) situation, an evolving 'better world'. On the other hand it is very easy to react badly to the feedback we receive and the resultant mutual destructiveness (lose-lose) or negative-sum behaviour is what reduces our quality of life and degenerates the state of our world. Parasitism (win-lose) is what results from manipulation and exploitation of others, it seems as if one party wins but this neglects both the synergic alternatives (win-win), which provides options that are better overall, and the evolutionary unsustainability of parasitic behaviours (which eventually, in nonlinear systems, trigger retaliation - an inevitable move to a lose-lose situation).
---
Putting Flesh on the System Bones
"There is somebody wiser than any of us, and that is everybody."

Napoleon Bonaparte (1769-1821)
Let us now start to relate these system ideas to our lives as interacting human systems embedded within a larger and highly complex natural world system, comprising in itself multiple levels of detail and interdependencies. It seems clear that the scope of this hypersystem (collection of interacting systems) is overwhelming, far too complex for us to analyse in conventional ways. Thus the traditional techniques used in Utopian planning (planning for a final static 'answer') are inapplicable. The system(s) will have changed in significant ways long before such studies are complete, leading to wasteful attempts to implement an already faulty 'solution'. Surely this doesn't mean that all planning is useless ? No, short term planning is often fine, all we must understand is that attempts to 'force' a long term solution necessitate actions that constrain systems in ways that may prove inefficient, and in the process waste a lot of energy and effort in 'corrective' actions overcoming 'problems' that are self-created by assumptions of a static world (i.e. the need to force the 'worms' back into the 'can'). We need instead to adopt wiser approaches to progress.
Can Science Experience Wisdom ?
The Oxford Companion to Philosophy (1995) defines Wisdom as:
"Good judgement about the evaluation of complex situations and conceptions of a good life in the light of a reflective understanding of the human condition."
"Good judgement" here relates, in HDE terms to choosing the optimum fitness from those choices available, whereas "understanding of the human condition" relates to taking into account all the metaneeds we identified earlier. Thus the HDE methodology corresponds to generating a science of wisdom, a contextual evaluation of complex situations based on experience in how such systems work. This experience, generated by experiment, simulations, plus trial and error learning largely already exists (although much remains to be formalised). We find, comparing the findings of systemic science with ancient wisdom traditions, that they often correspond - thus questioning the adequacy of the reductionist forms of science so dominant in recent centuries. We are now in a position to return science to where it could have been all along, as a formalisation and justification for the values and beliefs (hypotheses) that have come down from our historical ancestors, plus as a critical check (test) on the validity and continuing (deductive) applicability of these ideas. In other words, as our best methodology of sorting the 'wheat' from the 'chaff' concerning all (evaluative) aspects of our world and lives.
A Sense of Priority
Priorities relate to which improvements in our goals are most urgent, illustrated nicely by the story of "Nero fiddling whilst Rome burned". In far too many of today's scenarios we find politicians and others devoting extraordinary effort to trivial matters, seemingly oblivious to more critical issues. By explicitly considering all our values and goals we can better avoid this blinkered way of behaving. Each value has its own contribution to our overall fitness and quality of life. Some of them are more crucial than others (i.e. primal needs, if not met at least adequately, prevent any social and abstract needs being expressed) so these need higher weighting in our overall priority evaluation. Nethertheless, as we saw earlier with hunger and thirst, once these are below critical level then other needs can take priority in their turn (an idea that in Artificial Intelligence is called 'subsumption architecture'). We should attempt to maintain all needs below critical level in all lifeforms, if we wish to optimise the fitness of our planet.
To do this we need to consider, for each need, its marginal costs. That is, how much effort or energy is required to increase its utility or fitness by a certain amount and how this then affects other values. Note that this will vary with the current level of the need and is NOT the same as the amount of money involved. In fact, no money at all need be necessary if we utilise mutual aid concepts - solutions to needs can be as much mental as physical, e.g. in the case of abstract needs like love. In fact the traditional idea of throwing money at problems is a faulty one, what is needed is not more physical resource use (we already use far too much) but more effective use of all the resources we have, and this is better achieved by rethinking our approach, not by escalating existing poor (non-systemic) methodologies. The absurdity of the traditional approach can be simply seen by transferring the technique to a normal family system - trying to solve all their problems ("Johnny won't eat his greens") by simply demanding more money from their employers would be met with laughter ! Wise management, not increased consumption, is their common sense key to achievement.
Once genuine data is available then we can estimate the relative priorities in our world, i.e. which (weighted) needs are furthest below threshold (high priority) and which furthest above (so can possibly be reduced to 'balance the books' - which is what every wise family must do in practice). In this way we can target resources to best effect, rather than the random sequence of disjoint social panics by which the world seems to operate today (swinging wildly from each problem to the next 'flavour of the day' - more driven by media 'news' interests than by genuine concerns). Note that the scope of priority evaluation can vary in extent, local through to global, and can use fuzzy logic ideas to specify effort (e.g. a lot, a little) rather than needing an exact mathematical quantification before we choose to act (such figures are often arbitrary and pseudo-accurate in practice). Our intuitive grasp of priorities is, in any case, often far more reliable than the simplified analyses often presented by 'think tanks', which at best usually just state the obvious - since they operate by following non-systemic assumptions.
Multiple Viewpoints, Subsets of Values
Given a large number of values or needs within any human, it is not surprising perhaps that many arguments result in the participants talking past each other. The subset of issues that interest us may well be different than our 'opponents', we thus each selectively bias our positions to consider only values that promote our case, ignoring or distorting those unfavourable. This non-systemic (and dishonest) way of behaving is, as we have seen, a failure tactic in complex systems if the values interact - which is invariably the case if we feel the need to suppress or misrepresent any ! From Anthony Judge:
"Key values are systematically perverted in practice. They are widely and skilfully used to promote initiatives that are totally incompatible with their purported significance. Advocating such new modes of organization is now in the interest of those who can most effectively disguise their real concerns through using them. In the desperate search for evidence of support for particular values, much is permitted in their name by those who support them unthinkingly, believing that they should be supported at any cost. Any effort to question such initiatives is stereotyped as typical of the problems they purport to alleviate."
In Quest of Uncommon Ground (1997)
Yet such distortions need not be conscious ones, our worldviews are dependent upon our experience and it is wrong to assume that just because people live in the same society that they must share a worldview. Worldviews are self-reinforcing and self-maintaining autopoietic systems, and these can respond only to distinctions that have inherent meaning within that system. Much of what we experience, day-to-day, passes us by, we do not have the analytical tools to capture the meaning encapsulated in these experiences. Even for more relevant experiences, we can only 'map' these onto those categories and concepts that we have available, those emphases that have historical relevance to our viewpoint as individuals. Many of these differences in emphasis relate to priorities that focus on different evolutionary goals. These can cover such areas as a desire for safety, ethnicity, power, conformity, laws, relationships, growth or spirituality.
The Spiral of Growth
This idea of multiple perspectives on the same whole has suggested a stepped concept of worldviews. Historically the combination of evolution and interactions, together with individuals pursuing innovative fitness improvements, has led to an increasingly complex world. We can usefully view this, not in terms of cycles, but in terms of a 'spiral' which forever climbs to higher levels of collective achievement. In some integral psychologies (e.g. that of Ken Wilber) these social stages are nested, each transcending but including the previous one (in a similar way to how our psychological development sequence, from infant to child to youth to adult, leads to a consecutive hierarchy of thinking abilities).
Integrating conflicting mindsets requires us to bring into visibility a metaview, in which each perspective is seen as a valid but limited simplification of the whole. By doing this we naturally can reconcile such viewpoints as arts, science and religion, seeing them as different ways to experience the whole, as complementary disciplines not conflicting ones. Again we see that the ability to do this is a mental one, we must grow our own previously limited worldview to this meta level, such that it can encompass all the more specialised worldviews as subsets of the whole system. This is the systemic essence of the deep integral understanding that we are applying here to world problems. Attaining this level of understanding is however not easy, it requires a critical examination of our own beliefs, a scientific approach to our mind as a whole system within a larger cultural system. But as Dzogchen teacher Sogyal Rinpoche says:
"We are so addicted to looking outside ourselves that we have lost access to our inner being almost completely. We are terrified to look inward, because our culture has given us no idea of what we will find. We may even think that if we do, we will be in danger of madness. This is one of the last and most powerful ploys of ego to prevent us from discovering our real nature.

So we make our lives so hectic that we eliminate the slightest risk of looking into ourselves. Even the idea of meditation can scare people. When they hear the words 'egoless' or 'emptiness' they think that experiencing those states will be like being thrown out the door of a spaceship to float forever in a dark, chilling void. Nothing could be further from the truth. But in a world dedicated to distraction, silence and stillness terrify us; we protect ourselves from them with noise and frantic busyness. Looking into the nature of our mind is the last think we would dare to do."
Glimpse After Glimpse: Daily Reflections on Living and Dying (1995), July 7
I Think Therefore I'm Not
When Descartes derived his famous saying "Cogito Ergo Sum" ("I Think Therefore I Am") he locked the Western world into a non-systemic delusion from which they have yet to recover. By divorcing his rational ego from his body and from the wider world he created a form of individualism quite contrary to reality itself. Not only was his body also necessary for thought, but the language used (Latin) was a social creation. Additionally, his ability to 'philosophise' (an abstract need) depended upon a natural support ecosystem that provided the very air he required to stay alive. Denial of obvious connections has been a feature of dualist science and philosophy ever since. Eastern traditions however recognise more clearly the interconnected nature of all these aspects of our world, and this is also the view apparent from a systems perspective. A key aspect of this is that 'we' are not static, the "I" of Descartes was a continually evolving process and not a constant 'thing', whether this was conceived of as being in this world or outside it.
"We know the good, we apprehend it clearly,
but we can't bring it to achievement"

Euripides, Hippolytus, 428 BCE, l., 380
Considering our changing needs, and evaluating how many of these can be met by personal actions alone is sobering. There are none - all our freedoms are synergic features of our wider environment. Every human need continually requires some form of social or ecosystem support, thus it is obvious that if we are to meet these needs then we must take into account these support networks and ensure their survival. The world of the disconnected 'Ego' is dead. We can evaluate individual human behaviours only on the basis of how these interrelate with the wider systems of which they are a part, just as we investigate the behaviour of a potentially cancerous cell. If systems overall take more than they give then they are unsustainable and should be improved or discarded. If our social systems encourage such unsustainable behaviours then they too must be revised to promote more positive-sum individual and collective trajectories. This applies at all levels. Just as the isolated individual ego is a myth, so too nowadays is the isolated individual Nation. On a systemic planet (to paraphrase John F. Kennedy):
"Ask not what your World can do for you,
but rather what you can do for your World..."
Making A Difference
Taking an outgoing rather than an incoming approach to our interactions sets free our creativity. No longer are we passive receptors of what life throws our way but active constructors of our world, we can either make or destroy our future destiny. From Martin Brofman:
"No one but you 'makes you' feel angry, or sad, or depressed, or happy, or sexy, or bored, etc. Since you are now in the process of deciding for yourself about your life, and your choices, and your actions, and your feelings, and what you see, why not own your decision-making power on all levels ?

Perhaps in the past, when you've looked at a situation which you did not consider optimal, you've decided what someone else should have done differently, or should do differently in the future. When you really own your power and your freedom, you do not do that any more - rather, you only decide what you could have done differently then, and what you can do differently from now on, in the future."
Owning Your Power
From this wider viewpoint we can see more clearly the local and global constraints that prevent us from making a difference, and are better able to evaluate them in a systemic manner, to decide whether they are useful or limiting shapers of a future better world. This 'metaview' is a Godlike perspective, a spiritual viewpoint that is nethertheless 'objective', in that we can compare our data and judgements concerning our abstract (immaterial) needs as well as those of a more prosaic social or primal nature.
Yet this birds-eye view of a teeming organic world is very different than that of a lifeless mechanism. Here every value pulsates dynamically, growing and decaying in response to the decisions made by the network of agents at all levels within the system. This is a multidimensional dance, a kaleidoscope of changing colours and perspectives, a world of passion and compassion. There is no room here for a disinterested 'God', this deity is immanent within the matrix, this deity is us, this is our world.
Taking Back Ownership
"The person you see in the mirror is the person responsible for your World."
In the world of the 'nanny state', of the "it's nothing to do with me", of babyish "I wants", of 'couch potatoes', we generally get what we deserve - nothing ! Power without responsibility achieves only destruction, it is like a child with a loaded gun, a fool in charge of a fantasy. True responsibility is for the whole, all the aspects of reality changed by our decisions - and in a complex interconnected system that means everything. Devolving that responsibility to others does not change that fact, you are then responsible for their decisions and they are accountable to you as a result. This is the true essence of democracy, a lesson often concealed in our schools, scorned by our politicians, abused by our bosses. In the democracy of life on this planet every cell should have a say, thus you are accountable to your body, to those other lifeforms that you make extinct, to the environment that you destroy (or your 'representatives' destroy in your name). The problem is now yours, what are you going to do about it ?
Everyone a System Lord
Given that we are all responsible for the emergent state of our world, and all of us are to put our solution 'finger in the pie', then how can we be sure that the resultant chaos will add up to a 'better world' rather than the 'free for all' bedlam that might be expected ? The key to this issue may lie in the self-organizational characteristics of autonomous systems. If each agent tries to improve the situation by using a systemic viewpoint then we can perhaps transcend the Hobbesian fear of 'bossless' blinkered self-interest leading to a descent into violence. From facilitators Glenda Eoyang and Doris Jane Conway:
"Three conditions must be met for the self-organizing process to generate coherent patterns:

First, the system must be surrounded by a containing boundary. This condition defines the 'self' that will be developed during the self-organizing process. If the containing boundary is not clear or if it is too large, self-organization may not be recognized. The self-organizing process will take so long or the pattern will be so global that an observer will not be able to detect it. Without evidence of an emergent pattern, an observer can never know whether self-organization occurred in the system. Second, the system must incorporate some significant difference before the self-organizing process will begin. The number of significant differences must be quite small. A limited number of differences allow the self-organizing process to proceed on a relatively uninterrupted track. If the dynamics of the system are revolving around many focal differences, multiple and competing self-organizing paths will emerge. In such complicated conditions, it's possible that no one structure will receive sufficient resources from the system to be defined clearly in the process of self-organizing. Third, the system must include transforming feedback loops that allow organizing information and energy to flow across the system. If no system-wide communication mechanisms are present, no system-wide structures can emerge."
Conditions That Support Self-Organization in A Complex Adaptive System (1999)
These three conditions relate firstly to decentralisation, the creation of small enough systems to enable them to self-organise quickly and to contain their variety. Secondly to stress, the recognition that current conditions are not perfect, that an improvement is both possible and necessary; and thirdly to system wide communication which, when coupled with self-interest, recognises that working together actually improves our personal fitness rather than reducing it. This much neglected idea of synergy allows wholes to become greater than the parts, benefiting all, thus creating a win-win world dynamic.
Science with a Godlike Face
"And the earth was without form, and void; and darkness was upon the face of the deep. And the Spirit of God moved upon the face of the waters."

King James' Bible, Genesis 1:2
"Tao begets One; one begets two; two begets all things. All things are backed by yin and faced by yang, and harmonised by immaterial Breath"

Tao Te Ching, XLII
"It is one of the universal miracles of nature that huge assemblages of particles, subject only to the blind forces of nature, are nethertheless capable of organising themselves into patterns of cooperative activity"

Quantum physicist Paul Davis, The New Physics (1989), 1.4
"Science is concerned with the general conditions which are observed to regulate physical phenomena; whereas religion is wholly wrapped up in moral and aesthetic values...What one side sees the other misses; and vice versa."

Mathematician Alfred North Whitehead, Religion and Science (1925)
"The issue is with the language itself. The traditional metaphors involve the projection and/or manipulation of things. Concepts become reified, made concrete, so as to be manipulated or understood. But, change is not a thing. Process is not a thing. The traditional language fails us. Some, such as this author, then ask if complexity science can help."

Complexity consultant Michael Lissack, Mind Your Metaphors (1997)
Once we realise that science and religion are not in fact disjoint, but simply use complementary metaphors - alternative measurements of the same whole, then we can replace the snarling Devil-like faces of both with a single smiling Gaian goddess. Integrating, within a systems view, all aspects of our planet, all levels of our needs, dissolves the desire for a language of 'war'. This conflict-driven word play is so pervasive within our societies so as to bias all discussions towards division and negativity. From economist Brian Arthur:
"It turns out that an awful lot of policy-making has to do with finding the appropriate metaphor. Conversely, bad policy-making almost always involves finding inappropriate metaphors. For example it may not be appropriate to think about a drug 'war', with guns and assaults. So, from this point of view, the purpose of having the Sante Fe Institute is that it, and places like it, are where the metaphors and vocabulary are being created in complex systems."
Human Values Project, Complexity: Methodological Preamble
We must ask ourselves (quite seriously) whether we prefer a social world of escalating destructiveness (sub-animal) or escalating constructiveness (human). The answer, looking around, is far from obvious. If truly we desire the latter, then we might take a lesson from George Orwell and replace the war metaphors we employ daily with a process form of complex systems 'newspeak' that emphasises instead cooperation and coexistence, a language of love, not of 'politically correct' hypocrisy, of tolerance rather than suppression, of nuance rather than crassness, of openness rather than control, one more suitable for use by young (or old) Gaianauts flocking to sustain their synergic systems...
---

Environmental and Social

Surrealism Web Exhibition


---

"Conscious flowing
Ideas arising
Love outpouring
Life enhancing

Humans sharing
All enveloping
Earth protecting
Creative helping

Warming clothing
Hygienic housing
Filling feeding
Healthy growing

Artistic longing
Nature yearning
Knowledge building
Future world"

Rheomode 1, Collected Poems
(2001), Chris Lucas

---

" Dawns and Invocations "

Transcending Time Exhibit

---
Gaianaut Fitness Training
"To see what is in front of one's nose needs a constant struggle."

George Orwell, Tribune, 22 May, 1946
Absolute truth, like absolute fitness, is not a human trait - despite our total commitment to our ideals. We are all very far from perfect knowledge, even within our particular specialisms, so improvements within ourselves are just as possible as improvements in our world. Whilst faster 'sprint times' can come from better track surfaces or fancy running shoes, far greater improvements come from within the athletes themselves. We are beginning to understand today just how much our bodies are affected medically by our psychological states and vice-versa, likewise the state of our world is equally dependent upon our mental approach to it - as they say about placebo effect improvements "it's all in the mind". So here we will look to developing 'right attitude', in order to correct those errors in our thinking that we mentioned in an earlier section, removing our dark 'shades' to better see the scope of our alternative realities...
Maps and Territories
"Science Does Not Equal Scientism
Spirituality Does Not Equal Religion
Belief Does Not Equal Direct Experience"

Charles T. Tart, Mind Science (2000)
'Scientism' is the idea that science is the only truth and all other beliefs are meaningless. Religion often says that God provided the only truth and all other beliefs are meaningless. Belief is itself a personal mental state that assumes it is the only truth and all other beliefs are meaningless. All of these three ideas make the same fundamental philosophical error and that is to conflate human mental behaviour with whatever form of reality actually exists. This error is the confusion of the 'map' with the 'territory'. Economist Fritz Schumacher writes:
"On a visit to Leningrad some years ago, I consulted a map to find out where I was, but I could not make it out. From where I stood, I could see several enormous churches, yet there was no trace of them on my map. When finally an interpreter came to help me, he said: "We don't show churches on our maps." Contradicting him, I pointed to one that was very clearly marked. "That is a museum," he said, "not what we call a 'living church.' It is only the 'living churches' we don't show."

It then occurred to me that this was not the first time I had been given a map which failed to show many things I could see right in front of my eyes. All through school and university I had been given maps of life and knowledge on which there was hardly a trace of many of the things that I most cared about and that seemed to me to be of the greatest possible importance to the conduct of my life."
The Slenderest Knowledge
Every mental picture or 'map' we make of our world is a partial one, we leave out far more aspects than we include. Failure to recognise that 'fact' can lead us to serious errors of neglect in our thinking, for example we treat the system as if it were a part (as in reductionist science - forcing reality to fit limited models), history as if it were the present (as in racial or sexual prejudice), assumptions about language as intent (as in 'political correctness'), God as if it were a person (as in religion) and money as if it were needs (as in economics). We have suggested that these are all inadequate beliefs - but please don't take our word for it ! If you do then sadly you also make the same error, by confusing mere 'expert' words with experience or insight, instead question all the concepts presented throughout this site on the basis of your own ongoing experience - science is all about clear testing of our world, and that includes language itself.
Here Today, But Not Gone Tomorrow
"To waste, to destroy, our natural resources, to skin and exhaust the land instead of using it so as to increase its usefulness, will result in undermining in the days of our children the very prosperity which we ought by right to hand down to them amplified and developed"

Theodore Roosevelt, Message to Congress, December 3, 1907
There are three categories of resources in our world. Firstly there are the non-renewable resources, these (like oil and gas) form a fixed inventory which cannot be replaced once we have used them up (at least, not within human timescales). The second type is renewable resources such as trees, crops, air and water. These can (with careful management, not neglect) be conserved or even extended, but only at a cost of using energy since they are dissipative systems - cyclic processes needing energy flows (which are then dissipated or wasted) to reproduce and/or persist. The third type of resource is 'free', this form includes energy from the sun (unlimited over foreseeable human timescales) and information (in electronic form) such as web pages, music, pictures and ideas. This latter form can be copied (reproduced) endlessly without degradation or significant energy cost. Sustainable living means understanding these differences and not confusing or transposing them. For example, by 'protecting' intellectual rights (ideas - a free resource) whilst exponentially using non-renewable material (natural resources) we have a highly perverse reversal of sensible attitudes. Nor should we replace renewable resources (e.g. rainforests) by artefacts using non-renewable ones (like concrete burger bars) just in order to create more money resources - which is another abstract 'free' idea with no inherent energy value - we can't buy what no longer exists ! Again from Hazel Henderson:
"People are beginning to understand that the evolution of money has come to the point now where we absolutely have to understand what money is: a symbol system. Money isn't real. It's a tracking system, a scoring system, to keep track of people's transactions. The real resources are the human resources and the natural resources in these exchanges.

Bankers are suddenly starting to realize: 'This really is The Death of Money' (to quote a recent book title). What has happened, as I've been predicting for many years, is that money and information have become equivalent. Often many, even bankers, prefer information because the information is traveling faster than money. People who want to fund their business plans need to understand all this. Dead capital laying around is far less important than the ideas it is chasing. So the ideas in a good business plan may be a hundred times more valuable than the money someone could put into it. These exciting things were in my Creating Alternative Futures vision. Many are now happening."
To Stitch the World Back Together Again (1995)
Being Civil to Society
"Who overcomes by force,
hath overcome but half his foe."

John Milton, Paradise Lost (1667), Book 1
The word 'civilization' means transforming ourselves from individual animals into a culturally advanced social group, gaining a 'public life' characterised by politeness and attentiveness to our collective interests. A 'civilian' is one who is not a member of the 'armed forces', i.e. a person who does not resort to violence to others (of any sort) to achieve their aims. This idea of a free association of interdependent, non-authoritarian, considerate people seems to bear little relationship to the societies of today where economic self-interest, closedly supported by political domination, seems to be not only accepted but rewarded more than community and mutual help - again this is a matter of wrong attitude. A prime example is in the economic treatment of social effects, from E.F. Hunt (quoted by economists Michael Albert and Robin Hahnel):
"In a market economy any action of one individual or enterprise which induces pleasure or pain to any other individual or enterprise and is under priced by a market constitutes an externality. Since the vast majority of productive and consumptive acts are social, i.e., to some degree they involve more than one person, it follows that they will involve externalities ... all affect, to some degree, the pleasures or happiness of others.

It follows from the orthodox assumption of maximizing man that each man will create a maximum of social costs which he can impose on others. The 'invisible foot' ensures us that in a free-market ... economy each person pursuing only his own good will automatically, and most efficiently, do his part in maximizing the general public misery."

The authors conclude:

"In sum, the information markets delete, the roles they define, and the incentives they establish all combine to reward pursuit of narrow self-interest at others' expense. It is not that self-interest and competition against others are the only forms of behavior of which people are capable. It is that these are the only forms of behavior rewarded by markets! Just as markets systematically delete information necessary for self-managed, solidaritous decision making, markets establish roles and incentives that penalize solidaritous behavior and reward its opposite...

First, a universal interdependence is denied by the traditional paradigm, which is inadequately accounted for by market/property rights decision-making systems, thereby leading to demonstrable inefficiencies. Second, the universal interdependence is highly unequal. Any particular decision and economic activity has greater effects on some than others. For this reason, we defined the valuative concept, self-management, to serve as a more useful guide to this ever-present dilemma than the traditional notion of individual freedom...

Although we have deliberately chosen to conduct our welfare analysis, for the most part, under the assumption of perfect knowledge... in the world of doubt, there is even more reason to weight decision-making authority in the direction of those most directly involved. In general, there is good reason to believe the more directly one is involved in an activity, the less imperfect one's knowledge about the consequences is likely to be... which amounts to determining the extent to which those most immediately involved should be granted extra authority due to their greater knowledge as well as the greater effects...

Critics have sometimes implied that besides whatever else markets do or do not do, they have a destructive effect on the quality of social life. Traditional welfare theory ridicules such sentiments as unscientific -the sentiments of fuzzy-minded romantics-that does not withstand the rigors of clear-thinking analysis. Our theory suggests that such intuitions about markets are perfectly well founded, and that the criticisms of 'romantic visionaries' of certain effects of modern economic institutions can be expressed and supported by rigorous 'scientific' analysis."
A Quiet Revolution In Welfare Economics, Chapters 3 & 7
Selfishness is in essense a form of animal behaviour, a type of parasitism that regards society as a form of 'cash cow' that is there to be 'milked' for personal gain. This behaviour can only be sustained whilst society (as the host organism) chooses to retain values that promote its continuance whilst remaining ignorant of this parasitism - and these 'cuckoos in the nest' are highly skilled at disguising their motives - hence the need for such 'successful' people to control media and governments so that critical information can be better suppressed. Luckily today we see an increasing cultural awareness of people worldwide to this type of parasitic behaviour, both by individuals ('fat cats') and by corporations. A prominent enabler of this process of awakening has been the growth worldwide in various interrelated non-profit groups concerned with those specific world problems being marginalised by both parochial national governments and corporate myopia. This phenomenon is leading towards a form of citizen organization called by many the 'Global Civil Society', which is a self-organizing fraternity of many linked associations - a concept that recognises the tremendous synergic value of social capital. From Carmen Sirianni and Lewis Friedland:
"Such networks -

foster sturdy norms of generalized reciprocity by creating expectations that favors given now will be returned later;

facilitate coordination and communication, and thus create channels through which information about the trustworthiness of other individuals and groups can flow, and be tested and verified;

embody past success at collaboration, which can serve as a cultural template for future collaboration on other kinds of problems;

increase the potential risks to those who act opportunistically that they will not share in the benefits of current and future transactions."


Social Capital (1995)
This is all very much along the fractal decentralised lines suggested by systemic considerations, and rather closer to those forms of possible reality implied by our (much abused) terminology. From developmentalist Nicanor Perlas:
"In its modern form, civil society means the active and organized formations and associations in the cultural sphere. These would include, among others, NGOs, POs, academia, media, and Church groups... Business has economic power. Governments wield political power. But civil society uses cultural power.

Culture deals with the realm of ideas in its various diverse forms including worldviews, knowledge, meanings, symbols, identity, ethics, art, and spirituality, among others. The 'cultural sphere' of society is that subsystem of society concerned with the development of full human capacities...

Culture is that social space where identity and meaning are generated... It is clear that the institution, in this case, civil society, which controls meaning and identity and, therefore, behavior, will have a tremendous clout in the direction and affairs of national and world society."
Civil Society - The Third Global Power (2000)
Opening Up To Outside
"The very limit of human blindness is to glory in being blind."

Saint Augustine (354-430)
We have looked at our attitudes to mind, to resources and to organization (psychology, ecology and sociology), the three main natural 'systems' which we encounter in our day to day lives and the ones involved with most of our ongoing problems. Yet if we regard these as separable then we are missing the main point here. The most damaging aspect of our mind tyranny is this tendency to place areas of our world in specialist boxes, as if these didn't interact. But they do, constantly, thus a 'right attitude' to these issues must involve a viewpoint that integrates all these areas of our lives. This viewpoint must be a systemic one, breaking through the barriers we have erected within our minds and enabling us to see the web of connections holding together our world. These barriers or assumptions of 'separateness' are self-imposed by our society as a whole and are propagated in our systems of education and institutions. We must, instead of taking all these old ideas on trust, be open to alternatives. We should examine the ideas placed in front of us and look, not at what is there, but specifically at what is not, at what has been (conveniently) left out. It is in these missing elements that we will find the key to whether ideas are good or not from a systemic viewpoint. Seeing outside the obvious allows us to build up a more complete picture and it is from this more knowledgeable position that better, more inclusive, alternatives are often seen.
Having looked at natural systems we must for completeness also look at artificial ones, those created by humans but regarded as being outside the natural world. But they are not ! Every artefact we manufacture has its effect on all three of the natural systems we mentioned. Interactions do not remain neatly within the factory-user cycle but spread out in the form of pollution, waste, degradation of amenity, noise and pure destructiveness. All these material effects are ignored within the 'sciences' of the material, selective blindness applies even more here, in a world that tries to pretend that values do not exist, that 'facts' are immortal beings that live (magically) quite divorced from the reality around them. This mental block is a very good example of the map-territory distinction presented earlier and shows that our problems, caused by divorcing aspects of our external world, stem from our attitude that we can do the same in our internal mental world. These 'mind systems' are however equally interconnected, not just at a rational level but incorporating emotions and body also, we ourselves are 'whole systems'. How then can we better take this into account in our mental models ? Some suggestions from systems scientist Curt McNamara:
look one level up and down (or in and out) in structure;
look one level faster and slower in time;
examine the boundaries internal and external to the model;
ensure that plans are examined at a faster rate than they are executed;
search for the embodied energy;
use right-brain techniques to enlarge your patterns;
make a tetrahedral model of the four most important parts of the system;
examine interconnections and cycles;
use mind-mapping techniques to find the radiant connections.
Applied Systems Thinking (1998)
Better Equals Not More, Not Less
In our standard, either/or, way of thinking we naturally treat every issue as being improved by either moving towards more (e.g. money) or towards less (e.g. pollution). This seems so sensible that we never question the idea. Yet complexity studies tell a very different tale. If we measure the fitness of all the alternatives, then we find that this is maximised not at either end of the spectrum but in the middle.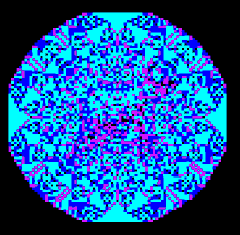 Systems left to self-organize achieve a balance between constraints that is a compromise between over dogmatic static structures and over relaxed chaotic ones. This 'edge-of-chaos' position is characterised by a resolution of that absolutist versus relativist argument typical of the extremes of modernist versus postmodernist thought. By actually testing our simplistic ideas, rather than taking them as 'fact', we find that they are usually wrong ! Humans are poor in general at understanding the wider picture, at least in terms of using our 'rational' conscious mind. Hence our need, before acting in a systemic world, to develop a better systemic frame of mind.
Looking at an overall system (as shown here) we see fractal structure at many levels. Allowing information to flow freely from any point, in any direction, arrives eventually at such a self-organized criticality. In this state, ideas follow unpredictable paths, very dependent upon local context and associations, and it is this complex intermeshing of thoughts and new correlations that leads to innovative ideas, new perspectives on our world. The key to systemic thought therefore is not more, not less, but different.
---
Yearnings, Cravings, Drives and Desires
"To see a World in a Grain of Sand
And Heaven in a Wild Flower,
Hold Infinity in the palm of your hand
And Eternity in an Hour."

William Blake (1757-1827), Auguries of Innocence
Understanding the magic of our world means understanding our values, what it is that we find worthwhile, what delights and satisfies us, and it is to this area that we now turn. The interplay of all aspects of our being (senses, emotions and intellect) comprises the systemic human and it is only on this broader basis that we can understand, firstly ourselves and secondly our world as a whole system.
The Ability to Value
We have seen that in order to generate new perspectives on our world we need to move towards a metaview, in which we can integrate all the different value systems current in our multicultural societies. But in order to do this successfully we need to understand our values themselves and the types of values we possess, in other words we need to understand our ability to value. Recent study of this neglected area of science (called Axiology) suggests that three types of valuing are possible. Firstly, we have the binary logic (classification) type of valuing which concentrates on existence or being (ontology). Here we use an either/or judgement, for example we ask is there a tree or not; is he an Arab or not ? This is the 'label' style most common to our descriptive science and philosophy, where we classify objects by lists of such parameters or attributes. The second type of value is that of quantity, where we classify attributes by size or ranking (cardinal or ordinal numbers), e.g. how heavy is it; is he taller ? This is the 'quantification' mode of (relative fitness) valuing common to mathematical science and economics, and is an extrinsic or external approach. For both of these 'objective' dimensions we assume (implicitly) a subject (or group of subjects) that are 'doing' the valuing of something outside themselves (which may, as in psychology, be another person's 'subjective' experience temporarily regarded as an 'object' to be studied).
The third type of valuing is that currently outside most science, and that is the valuing of wholes, or uniqueness. Here we treat all the values as a unique set of self-supporting attributes that contribute to a one-off absolute fitness or 'value-in-itself'. This is the valuing we see in such approaches as love or art, where the subject is not broken down into parts but ideally is accepted as an self-justifying systemic whole. This is an intrinsic or internal perspective and it is this type of overall viewpoint that we will concentrate on in our metascientific methodology here, where we go beyond 'subject' and 'object' perspectives entirely and identify ourselves with the system from the inside as it were - we 'become' the system and can then to look towards 'our' self-development. Understanding these three types of valuing can help bring together various fields of study. From the founder of axiological science Robert Hartman:
"The various expressions for moral goodness, such as 'sincere', 'authentic', 'genuine', 'honest', 'true to oneself', all mean being completely who one is. This moral goodness is the subject matter of Ethics and of Humanistic or Existential Psychology. It is defined as intrinsic valuation applied to the individual person, or the 'I'. Here we see how these disciplines - we call them for short Ethics - grow naturally out of axiology.

Again observe how axiology connects what was formerly unconnected, such as Ethics and Sociology, Ethics and Aesthetics, Ethics and Psychology, Ethics and Economics, to name a few. The difference between Sociology and Ethics is the difference between extrinsic valuation applied to groups, in Sociology, and intrinsic valuation applied to individual persons, in Ethics...

It is also evident how axiology can discover or define new sciences. if Sociology is extrinsic valuation applied to groups of persons, and Ethics intrinsic valuation applied to individual persons, then there must be a science that is extrinsic valuation applied to individual persons and another that is intrinsic valuation applied to groups of persons. The first, extrinsic valuation applied to individual persons, deals with individual persons as a class of functions, and is Psychology, in the usual sense of the word; the second, intrinsic valuation applied to groups of persons, deals with groups of persons identified with common causes, and is Political Science."
Axiology as a Science (1973)
We often however do not explicitly understand our own approach to valuing, or develop our abilities to distinguish between these three modes. For this reason axiologists have developed questionnaires or 'Value Profiles' to help enumerate our abilities to value along these three dimensions (analogous to the various 'intelligence' quotients), which are themselves regarded as of progressively greater intrinsic worth within an "hierarchy of richness".
Our Inherent Needs
Generating such a metaview can however become a waste of time if we regard it as an end in itself, some sort of rational utopia, rather than as a means to improvement in our genuine needs. The modernist view of 'individual rational man', discarding all his cultural and historical values in favour of some abstract, civil 'rights' is one such delusion, which discards knowledge of the synergic benefits of society along with the emotional needs of man. In the postmodern age the need for a common ethics also has been partly recognised, but is often opposed by an equally erroneous idea that all viewpoints are equally valid, a relativistic delusion that fails to incorporate trial and error, dynamic context, wisdom or common sense inputs. Rather than adopting either of these extremes we need to move towards a more integral view that improves upon both, incorporating both scientific evaluation and those inherent needs that have driven our various cultural differences. From philosopher Tom Bridges:
"In a liberal democracy, the state is committed to treat all citizens as individuals and to treat all individuals equally. But, in a developmental sense, human beings are never free and equal individuals first...Human beings first are members of families and communities distinguished by ethnic, class and religious cultural perspectives... Human beings whose self-understanding is shaped by these standards identify themselves and one another in terms of particular community membership and local ranking systems. In short, the defining attribute of liberal citizenship — free and equal individuality — is alien to the perspectives that most immediately shape human life."
The Culture of Citizenship: Inventing Postmodern Civic Culture (1994), Introduction
Here we must consider what these life shaping perspectives are and why they exist. There seem to be three basic distinctions that we can make. Firstly we have our instincts as animals, these are the primal or survival biases now being studied in the field of evolutionary psychology, secondly we have our community or social influences as considered in social psychology, and finally those personal or abstract preferences that distinguish us as a unique individual, studied in the areas of developmental, humanistic or transpersonal psychology as well as in spiritual traditions. All these areas are multidimensional, there are many separate needs simultaneously active and having different strengths, which vary dynamically not only in our earlier ebb and flow sense, but also in that people are free to change their higher goals, values and social personas at will. We thus have a very complex interplay of values evident which we must somehow integrate.
Relevant Values
So, what are these values ? Here we have a problem, in that there is no agreement as to a definitive list of such values. One source lists 987 constructive value words (e.g. peace, harmony, beauty). In any event, for any of us humans, or for our wider societies, the set of applicable values isn't a constant, we don't run our lives around lists of such abstract 'rational' and indefinable concepts to any great extent, but ground our needs in those specific sub-sets of appropriate values that we consider applicable to a distinct lifestyle context in time and space. From Arnold Mitchell:
"By the term 'values' we mean the entire constellation of a person's attitudes, beliefs, opinions, hopes, fears, prejudices, needs, desires, and aspirations that, taken together, govern how one behaves. One's interior set of values -- numerous, complex, overlapping, and contradictory though they are -- finds holistic expression in a lifestyle."

In their work they have looked at:

"well over 800 facets of people and find that different lifestyle groups have unique patterns in almost every area. We now have powerful evidence that the classification of an individual on the basis of a few dozen attitudes and demographics tells us a good deal about what to expect of that person in hundreds of other domains."
Human Values Project, Defining Values: Definitions
This is the difference between the universal 'theoretical' classifications common to many traditional scientific treatments, and the more particular 'practical' criteria we need in order to pursue a teleological course of action aimed at improving our fitness. The former can help to ensure that we do not ignore relevant values in our actions, by highlighting the alternatives that exist, but we need not employ all possible values in every case. This area of choice comprises the binary dimension of value.
For example, the abstract value of 'eating' will relate in a more practical case to menu, taste, visual appeal, convivial surroundings and so on, all culturally affected preferences. It will be noted here that the sub-set of values being used at any time comprise associated values from multiple levels, including aspects of primal, social and abstract individual needs, thus our tendency to often treat these in isolation in our rational thinking is an error in itself. Only by considering all relevant values in any situation will we be able to understand our drives and desires in a systemic 'quality of life' way. Note also that any evaluation must itself go beyond 'value-free' science by definition, that form of science cannot distinguish between needs either in terms of priority or significance. Hence valuation must use a criteria than takes these issues into account, and here we suggest fitness (metaneed fulfilment) as an appropriate scientific measure of value.
Ranking and Goals
Given a number of values thought to be relevant to a particular decision, then how are we to determine their relative importance's ? To a large extent this depends upon the cultural tradition under which the decision is made, e.g. the relative importance of work over sex, or environment over convenience is a communitarian affair - given that the individuals involved subscribe to the set of differentials being (at least informally) agreed socially. However, even where this is the case, we need to take into account also both the locality of the value (e.g. my hunger doesn't directly affect you, but my pollution may well do so) and the seriousness of the issue (e.g. death ultimately from both the above, but at most perhaps 'lack of fulfilment' for artistic values). In addition we need to consider clashes of beliefs, in that an individual's preference may disagree with the social milieu to which they belong, or that multiple cultures may adopt different ranking structures for values having consequences affecting everyone. This area comprises the extrinsic dimension of value, where we attempt to quantify each of our values appropriately within an overall viewpoint.
So far we have treated values as if they were selected from a set held in common by everyone, but in general this will not be the case. Each of us will have evolved a different desired balance between personal sets of values, which is reflected in our individual or associated sub-group goals. This also relates to those educational changes to our sets of values that we wish to develop over time - the evolution of our world, our culture or ourselves. Often, the actions envisaged will be out of our hands directly as individuals, so one goal here will be to pursuade others to alter their goals in a way compatible with our desired ends, to agree a common aim different than that currently accepted. Humans, as a species, are strong dreamers, so it will come as no surprise that this aspect of our values is often ranked high amongst our priorities - we nearly all desire a 'better' world, even if only at an individual level. It is in this area especially that we must consider now how our values interact dynamically in the real world.
The Wider Webs of Value
"Diversity is a strategic advantage only if there is a truly vibrant community,
sustained by a web of relationships."

Frijof Capra, The Web of Life, 1997, Afterword
When we attempt to relate values together, in terms of their interactions, then we start to enter the intrinsic dimension of value, replacing extrinsic questions like "What good is it ?" with inward looking questions of the form "What good are you ? ". We are then beginning to look at systems as wholes, in terms of what comprises the unique evolutionary system that we wish to study, rather than as sets of disjoint values, an holistic mode of thought that applied to reality as a whole has been called 'Unitary Perception'. This viewpoint is often thought of in sacred terms, e.g. from Tom Bender:
"Whenever we allow ourselves to know a place, person, or thing intimately, we come to love them. We see among their inevitable warts and wrinkles the special and wonderful things that they are, and their existence becomes as precious to us as our own. Loving them, we come to hold their existence inviolate - or sacred - and any action which would harm them becomes inconceivable. Openness, intimacy, knowledge, and love are the essential foundations upon which any healthy existence and any true sustainability must be built...

The sacred in our surroundings is essential for our well-being. We cannot have strong and clear intention that leads to real success in our lives unless all parts of our lives have coherence and resonate with the same core values. As our surroundings concretely reflect the values which were inherent in their making, it is essential that we bring both our places and our values into coherence as they reflect back into our lives."
Building with the Breath of Life (1999), Chapter 1
The following discussion is more technical than much of what has been outlined previously, but is still non-mathematical, and prepares us for the change in perspective required if we are to transform our thinking from a single-dimensional judgmental mode to one more suitable for our multidimensional world. It establishes some of the scientific background we need to justify our metascience of values.
Value Coherence
Bringing our values into coherence is an essential role in the metascience of maximising fitness, since it is only when we are working together that we do not suffer those inevitable fitness losses that result from lack of resonance. For example, we all know how easy it is to push a child's swing if we time our effort to augment the motion, yet opposing the same motion wastes a much larger energy resource. Similarly, if some of our values conflict with others then equivalent losses will occur as we interact. From a systemic viewpoint this relates to understanding how our values mesh in determining our own fitness, and in becoming aware of how the values that we adopt coevolve with the lives of the people around us and with our wider interlinked planet. For multidimensional values this may require a multicoherent form of analysis, such as that suggested for ethics by philosopher and scientist Paul Thagard:
"The multicoherence theory proposed here has the advantage over previous coherentist approaches to ethics that it employs a clearly stated and computationally implemented account of what it is to maximize coherence. Explanatory, deliberative, and analogical coherence all have computational models that have been applied to numerous complex real-world cases. Putting these kinds of coherence together with the deductive coherence of ethical principles and judgments is non-trivial. But the sporadic, incremental way in which people generally shift focus among different kinds of coherence can be seen as a rough approximation to a more ideal process of global maximization of constraint satisfaction. We do not always maximize coherence, but sometimes we manage nevertheless to make quite good sense of right and wrong."
Ethical Coherence (1999)
In an highly interconnected world, and with highly interconnected bodies and brains, the relevance of subtle synergic coherence effects needs to be more widely recognised. Despite little previous scientific research, such phenomena as crowd behaviour, rituals, intuition, parapsychology and emotional states may be tightly coupled with the positive and negative reinforcing 'butterfly' effects of chaos related interactions. 'Standing waves' and interference patterns generally, plus 'stochastic resonance', whether physical, electromagnetic or spiritual, may play a much wider role in constructive and destructive interactions (social or personal) than we yet realise. Nethertheless, even if we restrict ourselves to more modest value interactions, much more can be done than is yet commonplace in our day to day behaviour.
Conscious and Subconscious Behaviours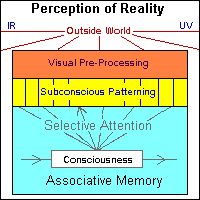 Most of us are more interested in our conscious behaviours than in our subconscious ones. These appear, at least initially, more amenable to modification and to deliberation than those deeper within our being. Consciousness seems, somehow, to integrate the whole of our mind and body and to focus our attention onto what is currently important. This relates to our inbuilt priorities, the mismatch between desire and actuality, and to those needs or values currently below the threshold of criticality and needing resolution. Our behaviours, however much they are influenced by our subconscious and emotions, are usually explained away by 'rational' arguments originating from our conscious thoughts. How to explain consciousness itself is however an open problem (see Scaruffi for an overview of current ideas), but many modern scientists agree that resonances and multiple competing needs play a prominent part.
Which values, outside the common primal ones, force themselves into consciousness however depends upon how we develop our social and abstract needs as we grow and mature. It is these auxiliary, optional, needs that tend to cause all the problems that we find in our social and psychological behaviours, and which most require the systemic viewpoint that we promote here. Whilst we must take our primal needs into account, it is fair to say that evolution has had time to integrate these successfully into our overall behaviour, something that unfortunately is not true for our more recent higher human needs.
Types of Mental Constraint
Viewing the mind as a network of interacting constraints allows us to see how our 'neural network' potentially can 'solve' quite automatically those sorts of problems that from a conscious mathematical perspective prove to be so intractable. In a multicoherent viewpoint we recognise that to avoid conflict our values must group into self-consistent nets of concepts, such that we feel 'happy' with our situation, i.e. in a balanced state. Four types of mental constraint have been suggested as allowing such coherence to develop.
Deductive

These elemental associations relate to the connections between individual ideas, in that these can relate positively (interneuron activation) or negatively (interneuron inhibition). All our concepts (considered as attractors formed by neuronal groups) will be neurally related to others in these sorts of ways - a set of static potentialities built up over time by changes in neural weightings following repeated experiences.

Explanatory

Here webs of such connections organise into mutually reinforcing and opposing groups, feedback paths allow these groupings to develop dynamically until they stabilise as static worldviews or part-worldviews (theories). This idea of sets of concepts being regarded as acceptable (included within our worldview) or unacceptable (included within another incompatible worldview) sheds light on the often intractable hostility between opposing peoples, who seem to reject every idea that their opponents raise.

Deliberative

This, action related, coherence facilitates the generation of future consequences, or changes in our external or internal goals by flows around these webs of possibility and by allowing them to develop. This forms a more dynamic mode of generating actualities which can be forecast to occur (not always consciously) if we activate or trigger the evolution of our system (the environment here can be another module of the same brain system and the response a result passed back to the calling module - to use computer analogies).

Analogical

Here we map concepts or groups of concepts from one part-worldview to another. We use metaphor and simile, correspondences between parts of our separate models to suggest other correspondences. This is a form of resonance, like a tuning fork note causing a nearby violin string to vibrate at the same frequency and is also related to human empathetic responses, a stimulus of (say) tears causing us to associate sadness or pain memories also.
All these features operate at a mostly subconscious level in generating our cognitive or emotional decisions, whether ethical or more general values are involved.
Distributed Interacting Agents
Bringing into consciousness the (relatively successful) systemic operation of our subconscious mind highlights that the attractor that results, our 'attention' value, tends to be a 'winner-take-all' mode of operation. This subsumption form of architecture was appropriate to our distant animal past (and to current autonomous robots) but is less so today as we try to integrate an environmentally situated 'society of cultures', somewhat more multidimensional in its demands than our individual 'society of mind' modules. From Nicholas Rescher:
"Sometimes 'human value' is restricted to the area of personal values (of character and personality). But we take it to include not only what the individual may prize in himself and his associates, but also what he prizes in his society, his nation, his culture, his fellowmen in general, and his environment. We thus view this idea extended over a very broad domain - ranging from individual to social and universal values." (1969)
Whereas personally we can operate consciously in a serial mode, considering one issue at a time, a society of agents naturally operates in a parallel mode, more akin to genetic algorithm models than to neural network ones, and can easily pursue multiple simultaneous ends - we have inherent diversity. We need therefore socially to replace our hierarchical (conscious 'boss') mode of serial control with the more distributed network control architecture now becoming evident from our studies both of our autonomous subconscious and of Internet structures. In terms of requisite variety it is impossible to optimize multiagent systems by means of such serial control, we must allow a parallel form of control to self-organize dynamically if we wish to achieve an optimized state.
Transpersonal Value Webs
Before we consider these dynamic fitness aspects however we need to look at how value interactions differ between minds and societies, in other words what is the difference between a 'closed' autopoietic individual (in which the parts all work towards one end) and 'open' sympoietic systems (in which diverse directions simultaneously occur). This relates also to Wilber's distinction between individual and social holons. We can usefully relate this, in cultural terms, to studies in complex systems which find there to be 4 types of behaviour possible, corresponding to the various possible attractor types (static, cyclic, chaotic and transient).
Class I: Conceptions of the ultimate attractor to which decaying patterns of order are pulled. A guru figure may also focus the experience of such an attractor. Negative counterparts may be seen in: progressive marginalization; contextually determined behaviour and absence of choice. Possibly the black hole of individual or collective self-righteousness.

Class II: Static established patterns of order (the "Establishment"). Patterns of rights, obligations and constraints. Top-down advocacy/imposition of behavioural guidelines (UN Universal Declaration of Human Rights, etc.). Organized liberty. Emphasis on collective consensus. Time-tested cultural, parental (family) values.

Class III: Chaotic behavioural patterns. Impermanence of social structures. Unconstrained freedom of choice. Emphasis on individualism. Postmodernist value relativism.

Class IV: Emergent behavioural patterns of higher orders of complexity. Surprise. Innovation. Higher orders of consensus. Grounding of new values.

Human Values Project, Complexity: Beyond "Equilibrium" Values
It should be noted here that Class IV contains multiple instances of all the other classes, and is a dynamic mix of constantly ebbing and flowing social patterns and beliefs. It is an higher form of order, encompassing many semi-autonomous sub-systems and balancing their mutual tensions and oppositions. We can regard each sub-view as a lower-dimensional projection from a higher-dimensional whole, an extrinsic value slice through an inherently intrinsic system. Thus from our point of view Class IV corresponds to the metaview perspective we encourage. Note also that the world, as it stands, already encompasses this way of operation. What we need to do is not to 'change the world' but simply to understand it better, to use valid models of the complex interactions already in existence (rather than single-value simplifications) so that we can propel the existing dynamics in a more appropriate direction, towards a better mix of social and environmental attractors. This implies that there is not one class IV Gaian system, but potentially many each with different blends of values and fitnesses (which change over time).
Our task is not to find the 'optimum' system as a static 'Utopia' but to understand the gains and losses inherent in any particular dynamical evolution and thus begin to comprehend how our decisions affect the 'system as a whole' and the balance of its sub-systems. The metaview we adopt does not propose any particular values, the components of the system are potentially an open set. All the HDE methodology does is to make explicit the interactional dynamics that we would expect from a complex system of this sort and give a technique for formally or informally evaluating the overall fitness with respect to the values thought to be of interest in any particular situation.
---
Dynamic Intrinsic Optimization
"Every man takes the limits of his own field of vision for the limits of the world."

Arthur Schopenhauer, Studies in Pessimism, 1851
"All things are to be examined and called into question.
There are no limits set to thought."

Edith Hamilton, The Greek Way, 1930, ch. 1
Understanding the dynamics of multi-level, multi-value, multi-organizational interactions is by no means a simple process. Given that any dynamical system changes before we can fully analyse it, this suggests that attempts to obtain any optimum, even theoretically, are fraught with difficulty. Nethertheless, if we can only obtain a better result than we have at present then our efforts will have proved worthwhile. So what stops our current, non-systemic, improvement endeavours succeeding ? We have seen earlier some of the problems in not using systems thinking in our actions. Let us summarise in social terms the main factors causing today's 'Limits to Human Potential':
We simplify issues because we can't understand highly complex systems
We are concerned with our own needs not our coevolution with others
We specialise and don't understand other technicalities or the wider picture
Our beliefs prevent us from compromising with those with different ideas
Our technical systems cannot interface and share information effectively
Our categories are often incompatible and cannot compare relevant data
Our procedure constrained action programmes compete for the same resources
Our administration facilities prevent effective multi-group resource sharing
We divorce modes of action, e.g. research, education, business, public policy
We have separate preferred perceptual modes, e.g. written, visual, aural
We get locked into social roles and are dissuaded from wider viewpoints
Our unequally distributed skills marginalise non-'expert' inputs
We remain ignorant of the needs of all the other species on the planet
Our languages create communication barriers and jargon based cliques
Our territorial secrecy prevents free flow of information and resources
Interactions between problems and values are poorly understood, if at all
Personality clashes result from psychological temperament biases
Social isolation erodes the inter-personal trust needed to cooperate
Absence of globally agreed standards or coordinating structures
Use of hierarchical approaches that inhibit horizontal relationships
Competitive territoriality that establish rather than dissolve barriers
Constraints on peoples use of space and time, information overload
Social organizations that are beyond the control of the individual
Words meanings that are increasingly confused and distorted
We assume static environments and ignore adult mental development
Little guidance to facilitate the process of choice amidst diversity
Difficulties in recognising true causes from symptomatic effects
Erosion of participatory democracy by the citizens at large
Fear of the unknown and of negative feedback learning experiences
Ignorance of emotional biases and their effect on 'rational' justification
Failure to encapsulate past wisdom and to avoid 'reinventing the wheel'
Limited willingness to develop and justify meaningful meta-viewpoints
Before we get overwhelmed by this massive (and still not comprehensive !) list, note that most of these issues are related. They are all, for example, problems of mind, of our approach, mostly with regard to fixed isolating views and avoidance of inherent dynamic interconnections. From Ervin Laszlo (1989):
"Many world problems involve outer limits, but most of them are due fundamentally to inner limits. There are hardly any world problems that cannot be traced to human agency and which could not be overcome by appropriate changes in human behaviour. The root causes even of physical and ecological problems are the inner constraints on our vision and values."
Human Potential and Development Project, Psychological Bias
Thus we can speculate that solving one issue may solve many others also, and this is what we can perhaps claim for a integral systemic viewpoint. Let us introduce now some systemic techniques for understanding and optimising human systems.
Intuitive System Dynamics
Getting a feel for how systems behave following perturbations brings in the fractal nature of expected responses. Disturbances will follow all the available communication paths, not just the one of special interest to us. Depending upon how our system is connected, this can result in a minor local change having a major global effect or a major global program having no effect. This depends upon whether the attractor basins involved are small (easily escaped - allowing 'butterfly effect' escalation) or large (impervious to disturbance and self-restoring). In complex (Type 4) systems a mix of such attractors is typically present and it is not possible to predict the result with any certainty using our standard cause and effect beliefs. Another method of approaching optima is necessary. One of the most powerful is systemic computer models. From system dynamicist Craig Kirkwood:
"Doing large-scale experimentation by making ad hoc changes to a crucial aspect of an organization like the information links can be dangerous. The tools we discuss below provide a way to investigate the implications of such changes before they are implemented.

No one today would construct and fly an airplane without first carefully analyzing its potential performance with computer-based models. However, we routinely make major changes to our business organizations without such prior modeling. We seem to think that we can intuitively predict the performance of a changed organization, even though this organization is likely to be much more complex than an airplane."
System Dynamics Methods: A Quick Introduction (1998), Chapter 2 .
For more on understanding the dynamics of systems try MIT's self-study Road Maps guide, especially Counterintuitive Behavior of Social Systems (note that System Dynamics as a discipline does not include many of the more modern complexity science concepts employed herein, such as attractors).
This System Dynamics technique explicitly models the assumptions we currently adopt within our social systems and policy bodies. These are then simulated dynamically by computer to determine how this model evolves using present data. In SD we assume that we already have quite enough data but that our interpretations are inadequate, i.e. the opposite attitude to most conventional social thinking. Often the assumptions we adopt cause model behaviours very different than those our policies were intended to achieve, showing how poor our inherent intuitive beliefs about complex systems can be and how this can affect our attempts at making social changes. Many of the actual policies being implemented by well-meaning governments, councils and corporations are shown by this technique to be positively harmful rather then helpful. Actions taken to alleviate known problems are often actually causing those very same problems !
Multiobjective Optimal Solutions
The state or possibility space in complex systems is so vast that the analytical derivation of optima is impossible. What we can attempt to do is to search this space using Evolutionary Computation techniques in order to get a feel for the likely dynamics. When we do this we confirm that many alternative solutions or 'niches' are typically available and in many cases several of these solutions have the same global optimum fitness. There is a set of diverse compromises (called the 'Pareto Front') that are all equally valid. Thus, in the 'real world', we cannot say that any particular lifestyle is 'best', we must accept (potentially) that different approaches are equally viable. This does not however suggest that all solutions are equally good (the relative values of postmodernism) - most of the stable (local optima) solutions in state space have relatively poor fitness on many values - so we need a form of science that can distinguish effectively between these two classes of solution. Formally, the techniques of Evolutionary Multiobjective Optimization provide the mathematics for this, of which there are many variants.
When we attempt to deal with many conflicting values or constraints then we need to find a method of calculating overall fitness, of combining and ranking each need within the whole. This is itself problematical in that the set of solutions produced is highly dependent upon the value sharing function used and how the weights are assigned. Only if this is adequate will the solutions also be adequate and it is very easy to assign prejudicial or inappropriate sharing factors which lead to apparently quantitatively exact solutions that are sub-optimal or misleading in practice. A new 'Fuzzy Multiple Criteria Decision Making' technique may allow this 'uncertainty' to be accounted for and also better take account of synergistic parameter interactions, but this is still very much an open problem area especially where the set of values are not all of equal importance or change over time (see a survey).
Self-Organizing Agent Societies
Both the previous techniques were external 'expert' approaches. As an alternative, we can establish autonomous networks of interacting agents, where all decisions are made internally, in coevolutionary fashion, and the observer simply watches the simulation until it arrives at an intrinsic 'result', a stable compromise state. Each agent can have multiple values and has an internal fitness function. The 'society' that results depends upon self-organization following continuous dynamic interactions. Computing resource requirements for such simulations are large, restricting the current complexity of individual agents and requiring parallel processing techniques (e.g. Connection Machines) for real-time viability. This is a relatively new extension to Artificial Life but provides a quantitative approach to social organizational issues. From the Brookings Institute:
"Growing Artificial Societies: Social Science From the Bottom Up is an outgrowth of the 2050 Project...The aim of 2050 has been to identify conditions for sustainable development on a worldwide scale. An important component of this project is to understand the interactions among such global social processes as population growth, resource use, migration, economic development, and patterns of conflict, governance, political empowerment, and equity."
Sugarscape
This decentralisation methodology overcomes the problems in hierarchical control structures caused by lack of requisite variety, and parallels much work underway in improving social efficiency by devolving control to lower (directly involved) levels of business and political structures. The adaptability given by this lower level autonomy allows the system to achieve the optimum state of edge-of-chaos, but at a risk of the loss of those social values that may be considered necessary for humanitarian reasons. The evolution of these systems depends very much upon the assumptions used to create the agent 'personalities' and with our current lack of understanding in this area this is, as yet, an unresolved issue requiring much future research. In particular, we need to discover what agent 'beliefs' are necessary if the system is to converge to a state that we, as observers, would consider optimum if applied to our own world. From Katia Sycara:
"The study of multiagent systems (MAS) focuses on systems in which many intelligent agents interact with each other. The agents are considered to be autonomous entities, such as software programs or robots. Their interactions can be either cooperative or selfish. That is, the agents can share a common goal (e.g. an ant colony), or they can pursue their own interests (as in the free market economy)...MAS researchers develop communications languages, interaction protocols, and agent architectures that facilitate the development of multiagent systems...."
Multi-Agent Systems
This has obvious implications to our continual focus on our 'problems of mind', exemplified in the preponderance of 'conflict' strategies in current agent models - which lead (not surprisingly !) to results that emulate the worst destructive features of 'real societies'.
Integrative Third-Order Cybernetics
Cybernetics started life as the study of the 'objective' control of machines (artificial and natural). This was extended, in second-order cybernetics, to include the interface with the observer, the 'subjective' element in the cognitive methodology. The current 'state-of-the-art' is in third-order cybernetics, where the observer is part of the coevolving system. This is a more intrinsic (embodied) methodology and shows the ongoing convergence of all the various systemic disciplines, as part of the general world paradigm shift noticed recently towards more integrated approaches to science and life. In 21st Century systematics, boundaries between systems are only partial and this implies that we must evolve with our systems and cannot remain static outsiders. Thus our mental beliefs echo our systemic behaviours, we co-create our realities and therefore internal and external realities become one.
Understanding this mutual control, exhibited by us on our world and our world on us, takes us into the metaview outlined here, where we can see ourselves as being part of the system under examination. From Dubois (1995):
"The big issue for cybernetics in the future could be a third-order cybernetics which would deal with a theory of self-referential natural and artificial systems which could be defined as self-observing systems. This third cybernetics should deal with the observer as an evolutionary subject within its environment. In this framework, new mathematical methods for modelling and control are to be developed to explain the emergence of such properties as anticipation, meaning and identity."
Trends Towards a Third-Order Cybernetics of Human Systems (1999), Paul Maiteny
The Missing Elements
We have seen techniques for evaluating our current mental models, for optimizing interacting values, for allowing control structures to self-organize and for intrinsic whole system cybernetics. All are useful systemic techniques and whilst our HDE methodology can help identify which elements we must include in such models (as shown in the last four sections) these still leave out important issues, our other two S's, Synergy and Sustainability. Synergy requires that we understand the emergence of new levels of value and the interplay between levels, whilst Sustainability relates to how our adopted choices affect the long-term evolution of our set of needs or values and how we can best grow the overall fitness of our world. Solutions to both issues are currently beyond our academic capabilities.
---
Complexification as Synergy
"We must dare to think 'unthinkable' thoughts. We must learn to explore all the options and possibilities that confront us in a complex and rapidly changing world."

J. William Fulbright, Speech in the Senate, March 27,1964
Few would doubt that our world is becoming more complex. From a pragmatic point of view it is immaterial whether this is a random phenomenon or one directed by internal or external agency. This effect is important in evolutionary biology, but potentially in much wider areas. From biologist Alexander Spirov:
"To understand the conditions under which mutations and selection can lead to rising level of organisation is of importance for evolutionary biology as well as in evolutionary computations. It is well-known that biological morphogenesis is the result of a co-operative self-regulating, self-organising processes that is controlled by the genome. That is why many of the new developments of GA's begin to use hybrid systems which model both the self-organizing and selective mechanisms of biological systems."
Self-Organization of Gene Network in Evolution
In our HDE method we accept that sentient organisms, such as humans, do act in directed ways and here we will look at how this self-interest can lead to complexification in the emergence of higher levels of meaning, based on synergic considerations. Let us recall that synergy means, in our terms, an increase in overall mutual fitness due to interactive or cooperative effects. In other words a positive-sum evolutionary step. This contrasts with dysergy, which is the negative-sum competitive equivalent (adversity may enhance some values but at the expense of decreasing others, giving a negative overall fitness result).
In complex systems, the effect of interactions between agents is to create attractors. These have been studied widely at lower levels of organisation but so far the concept has not yet been applied adequately to social systems. Many of our social concepts exist at a level beyond that of the individual, they are 'social attractors' and like most higher level emergent features they are not describable in terms only of the individuals (parts) that make up the system. These social attractors are forms of synergy, ideas like language which when employed potentially enhances the fitness of the two or more communicating individuals and which do not meaningfully exist for one individual raised in isolation.
Social Attractor Constraints
Unlike simple dynamical systems, our cultural attractors are diverse and more than one operates simultaneously, we have a web of 'customs' and 'beliefs' that constrain our behaviour just as much as do the attractor basins within simpler systems. This form of constraint of the part by the whole is called downward causation and it serves to partition state space into multidimensional disjoint portions with boundaries, sets of cultural 'norms' that are often very difficult to escape. This is the case with the effect of such social constraints upon our psychological mindset, these social 'pressures' on us to conform emulate the gravitational slopes that constrain water to find the lowest level. Yet by escaping (as water vapour and then rain) that physical agent can form rivers and dams and create vast hydroelectric power grids (with a little help from us). In a similar way we as individuals need to escape mentally from our social bondage's (or at least become aware of these) and preferably rise to a higher level, so that we can see beyond the one-dimensional 'gravitational well' of 'lowest-common-denominator' thinking.
The main reason for doing this is so that we may evaluate from a wider viewpoint the actual fitness effects of our social attractors, and determine for which aspects of our needs (and those of other lifeforms) they provide synergic fitness enhancements (i.e. they improve our individual fitnesses: win-win) and to which they prove dysergic (harming our individual fitness, either as lose-lose or lose-win). Those constraints that prove negative sum we should try to replace with fitter customs or cultural beliefs, bearing in mind at all stages the systemic nature of our world, and ensuring that a blinkered fixation on one issue does not blind us to coevolutionary effects elsewhere and on other needs. Some constraints (e.g. drive on the left or on the right - but not both !) are obviously valuable in preventing at least some negative effects (accidents), other assumptions may be much less straightforward to evaluate due to more indirect effects, including the inter-level coevolution between our psychological profiles and our social cultures - these are 'structurally coupled'. Yet only by attempting this bi-directional evaluation can we be sure that our behaviours remain appropriate for today's climate and lifestyles.
Synergic Self-Organization
In many walks of life we find the appearance of small groups of people concerned with a common task. What characterises groups that perform well from those that do badly ? A number of issues seem to be involved. Firstly the task must be one that interests all the members (i.e. we expect an increase in at least one need that matters to us, otherwise we won't bother ourselves), secondly we must relate closely to all the other members (we trust them to contribute appropriately, which means that the group must be relatively small), thirdly we must communicate well (so that the group can self-organize appropriately), fourthly we must differ from each other in skills or knowledge (without diversity we have no 'collective' ideas, combinatorics, and thus no synergy in the sense used here [note: aggregates of identikit agents can generate other forms of emergent properties however]) and lastly something special must happen, a 'spark' of inspiration. This extra ingredient is what we mean here by synergy, a social enabling of a group solution, based upon individual level needs, different than any possessed originally by any of the group members. It is interesting that this can be related to our 'intrinsic value' classification whereby the group as a whole becomes one, a higher value, whilst at the same time each individual is viewed by the rest as intrinsically valuable in their own right and not just as having instrumental value in enabling group goals - we don't just use each other.
The idea that this 'solution' must occur by self-organization, rather than being an 'imposed' answer is crucial, since any external answer must come from an individual and thus remains representative of a single isolated value system. In such 'lesser' group activities, whilst individuals may 'do their own thing' for collective benefit to some extent, the state space is pre-constrained by the imposed solution parameters, sub-system boundaries are present, and this precludes the free search of the global possibility space that is often needed to produce 'innovative' solutions to old problems.
Recognising People Assets
We each have only one brain. They are all the same size. Why then do we reward some (e.g. CEOs, 'stars') as if they had the abilities of thousand brainers ? In fact all our brains are filled with assets, with abilities that are often overlooked in our obsession with one-dimensional 'better' valuations. From Edgar S. Cahn:
"People are assets. We all know how to do more than others know we can do. We may have resumes. But how much does a resume really tell about all that a person can do? Does it tell anyone that a person knows how to cook scrambled eggs without burning them, can wire a lamp, is really good at finding sales, can charm information out of anyone on the telephone, or can usually figure out where something is in the computer that no one else can find?

Last summer, I met with a group of teenagers who were going to serve on a Time Dollar Youth Court, earning Time Dollars. I was trying to explain to them how Time Dollars worked:..."Tell me what skills you have."...

The list of what these kids could do covered two walls: painting and dry wall, fixing cars, teaching boxing and karate, speaking Spanish, woodwork, shooting baskets left- and right-handed, cooking all kinds of special dishes, shopping, doing hair, fancy nails, sewing, babysitting, helping with homework, reading Bible stories, fixing bikes."
No More Throw-Away People, Chapter 11: An Asset Perspective
'Better' often means just different, exhibiting one ability that most people do not have. But even 'dysfunctional' people (judged on only one value usually) have large numbers of other abilities, we can all manage to get through life based on our many experiences, our learned human abilities. This tendency to ignore inherent abilities and value 'experts' over 'common sense' destroys existing 'free' resources only to attempt to replace them at high cost. Is a social worker say, with all of two weeks training, really more an 'expert' on social behaviour than an eighty year old who has raised three generations ? Building off existing life skills, our potential to improvise (e.g. creating 'shanty towns' from scrap) is far more intelligent than treating each other only in terms of our 'deprivations' measured by narrow minded experts. Bureaucracies and experts are highly adept at 'keeping people down', at negating their abilities, at ignoring their values. In a synergistic viewpoint this is unacceptable, rather than the 'experts' controlling the people it should be the other way around, the 'clients' should 'own' the experts and use them only when their one-dimensional experience is actually necessary - which is much more rarely than they would have us believe. Enabling people to use their own talents is massively more efficient than preventing them doing so, so why do we do the latter so much ? Paid work requires expensive accounting and support systems that are quite unnecessary for mutual-aid synergy-driven tasks. If we wish to sum up this 'barrier-free' approach to life then we can simply say:
"Stop Stopping People !"
The Three Classes of Life
From synergist Timothy Wilken:
"The natural law of plants is Neutrality – they ignore other.
The natural law of animals is Adversity – they hurt other.
The natural law of humans is Synergy – they help other.

Plants have no relationship with other. They are the independent class of life.

Animals depend on others as a source of food. They are the dependent class of life. Their lives are filled with conflict – the struggle to avoid being hurt.

Humans share the animal body and physiologically we depend on others as a source of food. However, psychologically and socially, sometimes we depend on others and sometimes others depend on us. We are the interdependent class of life.

Interdependence gives us humans the option for co-Operation.

We can choose to operate together to insure that both parties win, and neither party loses. We can negotiate to insure that both parties are helped, and that neither party is hurt. We can veto any action that would cause either party to lose. We can veto any action that would cause either party to be hurt."
Uncommon Sense, Chapter 4, pg73
Although this is somewhat over-simplistic, and we know even plants must cooperate much of the time, it does highlight standard deficiencies in our own thinking. We often regard ourselves as independent (don't you dare affect me or me you - a plant view !), or adversarily (it's either me or you, dog eats dog - an animal view !) but very rarely do we recognise the complete necessity of synergy within our societies and ecosystems if we are to survive. Only in the last type of interaction do we have the ability to build up complexity, the first leaves order unchanged, the second destroys it. By interdependent combinatorics we assemble ever greater systems, we complexify until we arrive at a fully interdependent planet comprising many levels of interacting and mutually aiding systems. It is this web of life that comprises and supports the human world we know and fulfils (or does not) our many desires or wants.
Synergic Wealth
Wants are however not the same as needs, we 'need' food to live but may 'want' caviar. Whether this want is a sensible one depends upon many issues e.g. cost, resource use, availability and especially the effects of our 'want' upon the wider scheme of things. Pursuing genuine 'needs' which are sustainable and life enhancing rather than artificially created 'wants' (advertising led consumption for consumption's sake) is the sign of a balanced society. Wealth equals available resources, not the consumption of them - which is a negative-sum transaction ! Instead our aim should be to create more genuine resources (not money - which, as we saw earlier, is an imaginary category) and to do this we need synergy, the ability to make 1+1=3. These created resources can take two forms, physical and mental. Physical resource creation takes energy, and our only renewable source of that is the sun. Mental resource creation takes ideas and our only renewable source of that is people. Maintaining the former needs no special effort from ourselves, although using that energy efficiently does need new ideas at the present time. Maintaining intact the people resource however requires the concurrent maintenance of our 'ecosystem services', that web of planetary conditions that supports life itself and this brings us to sustainability.
Sustainability as Simplicity
"You take my house when you do take the prop that doth sustain my house;
you take my life when you do take the means whereby I live."

William Shakespeare, The Merchant of Venice, 1596-1597, Act: IV, Scene: i
"Give me a look, give me a face, that makes simplicity a grace"

Ben Jonson, Epicene; or, The Silent Woman, 1609, act I, sc. i
The well used and somewhat ambiguous term 'sustainability' means that the system should be able to continue operating in the same way indefinitely, there are no time limits. But what system, and what do we mean by operate ? The world in which we live contains many inter-linked systems, and in such a complex hypersystem dynamical changes alter the constituents all the time, there is no 'static' state to maintain into the future. We would offer a somewhat different definition here, in that sustainability means that we have the potential to meet all our values or metaneeds in the long term (including our children's children...). From ecologist James Kay:
"Three aspects of Ecosystem Integrity:

Ecosystem Health: Current well being in normal environmental conditions
Ability to deal with stress, that is a changing environment.
Ability to continue the process of self-organization. Change from within.

When we define ecological integrity we are undertaking to integrate everything we know about an ecological system and where we want it to be. This integration, to be complete, must include the sum total of human preferences and concerns about the system. We must find paths for ecosystem development which assure our species survival both in the short and long term. Such paths will balance the needs of other species with our own, so as to maintain a biosphere in which humans have a sustainable niche."
Ecosystems as Complex Systems (1994)
This alternative definition leaves open the way in which we meet those needs (which include those of the other inhabitants of our planet), thus we can consider better ways of doing what we are doing rather than trying to preserve intact (often at great cost) a static conception of ecosystem constituents or developmental processes. What we preserve then is the whole, not all the myriad parts. We still allow self-organization to evolve our system, whilst ensuring that the trajectories that can occur are positive-sum ones which can maintain both our biodiversity and our psycho-social diversity at optimum levels.
The Starting Position
Before we can preserve anything we first need to understand it, to find out what it comprises. There are three aspects to our world that need to be sustained. Firstly there is the Earth itself, the physical structure of our planet and those systems, such as the weather, soil and seas that support the next level. This second aspect is Life itself, that complex web of interacting ecosystems that provide all our food, create our oxygen and maintain a climate liveable for humans and for themselves. The third level is human knowledge, our inheritance of experience, of data, of understanding which has been built up over countless generations of human activity - our Time wealth. It is only this latter wealth than can be consumed without restriction since it is a 'free' resource, the other two forms of wealth need to be recycled or replaced each time we use them if we are to maintain a sustainable world.
Now we must ask who is going to be doing the preserving ? Can we devolve this responsibility to some 'expert' ? No, the understanding of the whole is a task for the whole itself, and that means every person alive, every Gaianaut on this spaceship, all must contribute using their own equal measures of 'intellectual property' wealth, their 'systemic package' of skills, experience and ingenuity. From Buckminster Fuller:
"Because our spontaneous initiative has been frustrated, too often inadvertently, in earliest childhood we do not tend, customarily, to dare to think competently regarding our potentials. We find it socially easier to go on with our narrow, shortsighted specialization's and leave it to others---primarily to the politicians---to find some way of resolving our common dilemmas...our failures are a consequence of many factors, but possibly one of the most important is the fact that society operates on the theory that specialization is the key to success, not realizing that specialization precludes comprehensive thinking...

But specialization is in fact only a fancy form of slavery wherein the 'expert' is fooled into accepting his slavery by making him feel that in return he is in a socially and culturally preferred, ergo, highly secure, lifelong position...Man is going to be displaced altogether as a specialist by the computer. Man himself is being forced to reestablish, employ, and enjoy his innate 'comprehensivity'. Coping with the totality of Spaceship Earth and universe is ahead for all of us... I've often heard people say, 'I wonder what it would be like to be on board a spaceship', and the answer is very simple. What does it feel like? That's all we have ever experienced. We are all astronauts... We have not been seeing our Spaceship Earth as an integrally-designed machine which to be persistently successful must be comprehended and serviced in total."
Operating Manual For Spaceship Earth
Interlevel Interdependencies
We saw earlier that human sustainability is dependent upon biological life, thus we must at least have sustainability for all the lifeforms that contribute to our well-being, those 'ecosystem services'. But we cannot treat this web of life as separate from us, it is not a disjoint entity but connected to our social behaviours at all levels. Thus our own sustainable behaviours must relate to our systemic effects on all the many needs of our biological cousins. 'Whole systems' approaches to these issues are very rare today, we do not understand at all well the interdependencies involved and often still consider problems as linear cause-effect scenarios 'treating' only one dimension and 'assuming' that the problem is then solved. From epidemiologist & veterinarian David Waltner-Toews:
"Drawing inferences about populations based on studies of individuals is termed the atomistic fallacy, and is widespread and widely tolerated in epidemiological studies. Ironically, the converse fallacy - drawing inferences about individuals from population studies - is vigorously guarded against. What this means is that all efforts are focused on finding individual determinants of disease, and the broad systemic conditions - the very conditions which determine whether or not healthy human communities are sustainable - are largely, by design, ignored."
Ultimate Patients: A Practical Ecosystem Approach to Sustainable Health and Agriculture, Chapter 1, pg 18
As we have seen, from systemic perspectives such reductionism rarely proves to be valid because of knock-on effects (well illustrated in the above chapter). From a metaneed viewpoint we need to consider not only our interacting biophysical or primal needs (e.g. food, water etc.) but also our psycho-social and abstract level needs, as well as these same needs (as far as they arise) for the other lifeforms on our planet. From this perspective it is important to consider the interaction of economic and other needs and the effects of this on our direction in state space. Currently we give undue importance to quantitative money issues (which we said previously was essentially a 'free' abstract resource - we create it mentally !), and to extrinsic numbers generally, at the expense of genuine qualitative resource needs - such as ecological ethics and quality-of-life aesthetics. Again from Edgar S. Cahn:
"Is it possible that people would neglect their children or their families just to earn money ? Is it possible that an employer would sacrifice all the employees who had worked diligently over the years and relocate overseas where labor costs are lower—in return for a huge bonus ? Is it possible that the political process itself could be put up for sale to the highest bidder ?

We don't think of money as our Drug of Choice. But would it surprise you to know that between 80 and 90 percent of all the money made in the world has nothing to do with producing goods or services or buying capital equipment to produce goods or services ? It is money making money off of money. Some have said: It is money delinked from value.

Anything good can become an addiction: sex, eating, drinking, exercise. Money is our 'drug of choice'. And we are in denial about the possibility of addiction. The first step to economic sobriety is to understand and acknowledge the external costs that flow from reliance on money as our sole medium of exchange."
No More Throw-Away People, Money: Our Drug of Choice
We impoverish not only the natural world but also our higher level needs by this approach - in essence we are killing ourselves as 'human beings' for the accumulation of arbitrary numerical 'bank balances' - a sad reflection of our misplaced priorities. Our extensive use of computers is contributing negatively to this trend, in that we address only those issues compatible with being programmed on a numerical computer, any qualitative values or needs not quantifiable 'computationally' in this way are simply left out of the 'model' which is then promulgated to the public by economists and politicians as being an 'exact' mathematical replica of 'reality' - the confusion of 'map' and 'territory' again !

Levels of Intrinsic Value

Considering other lifeforms as having intrinsic value in themselves does not of course make a mosquito equal to a human. Wholes differ in size and complexity and thus the fitness sums possible vary in a similar manner. We can allow that all humans are intrinsically equal since they all have brains and bodies of equal complexity and (we assume) potential. Similarly two chimps can be equated or two mosquitoes, and we can also say that two people are twice as intrinsically valuable as one. But what of a society of a million, is this just equal to a million individuals ? No, such a reductionist method ignores synergy, which we saw gave extra, higher level, intrinsic system properties. But what about a ant-hill, is this not a society too ? Indeed, but a society of lesser agents so we have a continuum here of levels of intrinsic value which we need to evaluate to determine the effects of our actions on the holarchic fitness of the world as a whole. From philosopher Donald VanDeVeer:

"I have tried to characterize the basic features or structure of what I believe is the most rationally defensible 'environmental ethic'. Such an ethic will be complex; it should accommodate a variety of moral presumptions, e.g., that a human life is normally more valuable than the life of a cat, that all lives have some value, that some degree and kind of biodiversity is valuable, that the well-being of future generations of all living things is significant and hence that we ought to adopt ways of life which are sustainable, that in a wide variety of cases the number of lives at stake is morally significant, that rarity and abundance are often relevant, and that replaceability (or lack of it) of lives of a certain kind is often or always morally relevant and that an ancient genetic lineage is normally something of great value."
Interspecific Justice and Intrinsic Value (1995)

Following this approach we can use the HDE method to help identify the components of our system and the sorts of values or needs that they possess, before evaluating (to some degree of accuracy) the overall relative fitnesses of the various alternatives that we have available. Given that we have a scientific method that can in principle enable us to balance our needs with those of the natural lifeforms with whom we coevolve, can we now generate a form of sustainable society that can right the world's wrongs and restore to our planet the systemic balance that is rapidly being eroded by our current one-dimensional interferences ? Not quite yet, such an holarchic ethics is only feasible if we have global agreement between all the parties to both the problems and the suggested solutions. We are, so far, a long way from this situation, both educationally in the absence of systemic teaching in our schools (at all levels, both child and adult training schemes) and politically in the willingness to cooperate with those of different opinions (within and outside countries). Even if we had, in principle, this sort of agreement and knowledge (which some would say does exist in such organizations as the United Nations) the successful implementation of such policies and (importantly) their ongoing maintenance - the essence of 'sustainability' - depends largely on the existence of self-correcting feedback processes to avoid abuse.

Coping with Defectors

"Fathers by their children are undone;
The brother would the brother cheat;
And the cowled monk is a deceit…
Might is right, and justice there is none."

Walther von der Vogelweide, c. 1170 - c. 1230, Millennium

One of the main problems with any form of conservation or sustainability is dealing with cheaters, those people who, whilst proclaiming the values of society, go behind everyone's backs and steal or destroy common resources. This deceit, dishonesty and manipulation is sadly often encouraged by our systems of fixed laws which allow lip service to be paid to the 'letter of the law' whilst permitting clever lawyers to deliberately break the 'spirit of the law' on behalf of selfish clients. The law itself can be regarded as immoral in this sense, as it takes away from the people genuine control over their social behaviours - you just cannot fence in every eventuality in complex systems. 'Justice' does not equal mechanically enforced and isolated sets of non-interacting rules of this type which deliberately ignore wider issues (e.g. discarding previous client behaviours as 'not relevant' to the current case). This injustice (from a system supposedly providing 'justice') is perceived only too well by the public at large, even if lawyers and politicians conveniently turn their collective backs on any suggestion of such a problem. Cases of absurd miscarriages of justice and of inverted priorities (e.g. compensating 'criminals' and prosecuting 'victims') litter the world's newspapers daily, and there is little conception of balanced restitution (repairing the actual damage, not hyped irresponsible 'rights') evident in the 'mechanisms' of law. If we freely permit such social behaviours towards humans, what chance have our ecosystems and planet - which do not have the nebulous and abused comfort of 'rights' ?

Complex systems research has done many simulations on these sorts of 'conflict of interest' cases, and early findings suggest that cooperation cannot develop without knowledge of the trustworthiness of the 'opponent'. To prevent 'invasion' of a cooperative society by parasitic defectors a strategy known as 'Tit-for-Tat' seems to prove pretty effective. This assumes that life is a succession of meetings between the same people (which in a global society is the case overall - even if as an individual we always meet new people) and we thus know the previous behaviour of the person with whom we are to deal, i.e. in law this would imply we had the record of the 'criminal' available before hearing the case - explicitly prevented in today's law systems. We then behave according to the rule 'cooperate if the other cooperated last time, defect (i.e. punish) if they did not. This is pure common sense, implying that we treat people as they treat us - and thus do not behave as 'suckers' (or 'cash cows') endlessly. In this way we operate a reciprocity system bringing clearly into each others mind the disadvantages of deceit, i.e. the ongoing defection costs or consequences. This escalating trajectory mode of behaviour brings into prominence the alternative 'synergy' versus 'dysergy' options we saw earlier. In other words, a simple policy of evaluating overall gain/loss (with full restitution) is better in principle than complex sets of non-interacting rules (which contain many 'cracks' in which to hide) for ensuring containment of defectors. This assumes that publicity about other peoples previous behaviours is globally available - i.e. secrecy is disadvantageous to free society. To enshrine a system that protects people from the consequences of their past behaviour or positively reinforces bad behaviours is culturally self-defeating and sends quite the wrong evolutionary fitness message, as sociologists and one-dimensional 'do-gooders' are now (belatedly) starting to discover. Trust needs to be earned and continually demonstrated to ensure social synergy and sustainable living. One only has to look around at current standards of 'accepted' untrustworthy public behaviour to see just how far we have yet to go to even see the basis for genuine multidimensional sustainability.

Future Causality

"We have the idea that if a thing can be done, then it ought to be done. That if something has been invented, then we must use it. We don't stop to think of the possible consequences of its use."

J. B. Priestley (1894-1984)

We humans, with our ability to plan, can generate predictions about our future. If we do not like these predictions then we can change them, in this way the future acts to cause changes in the present, we act personally or socially to avoid obvious trajectory mistakes, we pre-learn from our errors. From John Campbell:

"A future self-referent system that also has mechanical ability to operate on the physical world around it is capable of extraordinary causal behaviour. It can modify the structure of itself and its surroundings under the direction of its internal future description so as to assume the form that it internally describes. This allows a representation of the future to direct activity in the present. In effect, future self-reference gives the future access to act causally on the present.

It is of utmost importance to recognize that these directive future self-referent models have a more imperative status than predictions of the future. They are also commands that cause the physical systems under their influence to materialize them in the future."
An Organizational Interpretation of Evolution (1985)

All acts have consequences, and we have seen that our intuitions of these consequences nethertheless can be very poor in complex systems. This unpredictability leads so many of us to adopt a greed influenced short-termism instead - we try to ignore the long-term consequences entirely, but these consequences will still occur, whether we understand them or not. Thus if we are to avoid disasters our behaviours need to be adapted to include the best knowledge we have regarding these issues, we do not have the option of saying that problems 'do not exist' based on the inability of simple science to deal with them. If we inadvertently kill the world then it will certainly also kill us !

Whilst many of our plans turn out to be self-fulfilling prophesies, in other words we force nature or other people to conform to the 'plan' at any cost, we also find that global plan actions coevolve with local influences to generate unexpected outcomes. Thus our predictions are never 100% accurate, we need to adapt them over time if we are actually to arrive at the point we desire to reach. In complex systems however even simple actions have a habit of generating massive unintended effects which cannot easily be reversed, evolution 'locks-in' arbitrary choices. We must as a result become sensitised in a much more significant way than we are at present to these possible wider repercussions, which are implicitly present within our decisions - they are not 'unforeseeable' by intelligent thinkers. It is in this area that the perspectives of the complex systems sciences can be of most benefit, highlighting the connections between the various parts of our world. Simplistic proposals aimed only at single dimensions of reality will have necessary effects on our wider values, so it is crucial that we can predict in advance, before taking action, whether these will be positive or negative in overall nature (a qualitative measurement suffices here, we have no inherent need to quantify the amount but merely need to identify the sign of the fitness escalation which will, in all probability, result).

Summing Up

We have covered a great deal of ground in this document, and some readers may be feeling rather confused as a result, so let us try to summarise in one-liners the main points we have emphasised herein:

Our World is a densely interconnected system and must be treated as a whole
We cannot control the world (it is too complex) only our interactions with it
These interactions will generate unexpected nonlinear feedback effects
Multiple interacting levels exist, physical and mental, affecting our options
Many values or needs at each level contribute to our collective quality of life
Science is about understanding dynamic alternatives and future predictions
The fitness effects on our values must become part of these predictions
A systemic viewpoint is necessary to comprehend such value interactions
We must recognise the partial nature of our models, the 'map' is not the 'territory'
Our social and personal assumptions constrain how we see our possibility space
We need to maintain a balance between too much stability and too much change
This requires escaping the either/or mindset that has dominated our past
Multiple equally valid fuzzy perspectives exist, there is no single complete 'truth'
Both positive and negative overall fitness trajectories can result from our actions
Decentralised self-organization achieves better fitness optima than external control
Cooperation creates synergy, competition dysergy, independence nothing
Synergy relates to social capital, the cultural power of identity and meaning
We need to achieve more with less resources, use subtle integrated approaches
Sustainability means using 'free' mind resources not non-renewable physical ones
Wisdom implies honesty and balancing priorities within an overall understanding
Modelling complex dynamics can help us develop wisdom in systems thinking
A metascience treating interacting values can be formulated (the HDE method)
Ancient wisdom traditions have always stressed three concepts as leading to a better life. These are Truth, Beauty and Love. All are free. Truth means information about how our world operates - the Systems viewpoint. Its opposite, falsehood or ignorance, requires that knowledge be concealed and this takes security resources, a fitness loss. Beauty means value creation and preservation - the Sustainability viewpoint. Its opposite, disorder or destruction requires the waste of energy resources, a fitness loss. Love means connectedness and cooperation - the Synergy viewpoint. Its opposite, hate or division, requires competition and this consumes personal resources, a fitness loss. To maximise the 'Quality of Life' of our World we need only remember the 3 S's:
| | | |
| --- | --- | --- |
| Systems | Synergy | Sustainability |
---
In the 3 hours or so needed to carefully read this document more than 10,000 human beings, just like yourself, will have died from neglect; whilst the world's 300 billionaires will have made yet another 100 million in profit - enough to preserve 1 million human 'resources' for a full year... This indirect slaughter will continue, day in, day out, until the rapidly approaching end of our civilisation. Unless we all act.
10 corpses per hour per billionaire - don't YOU think we could create a better, more ethical world ?
Part 2 of our enquiry is now available, looking at: Intrinsic and Holarchic Education
For more on applied complex science ideas see our other Writings...
If you have any suggestions or comments then do Email us at CALResCo


Page Version 4.83 December 2009 (Version 3.2 July 2002, Author Chris Lucas, original April 2001)
(Parts of this document have been published in Chapter 6 of Clifford Sharp's book "The Origin and Evolution of Human Values", DP Press, 1997, ISBN 0-9511547-1-0)