SELF-ORGANISED CRITICALITY V1.4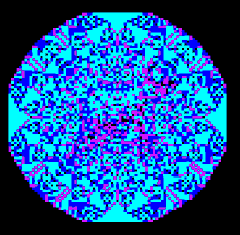 This also maps to a 90 x 90 matrix of cells, but in this case each cell is a simple heap of units. The system generates new units one at a time and drops them onto the matrix. Once a cell contains 4 units they then flow from that cell to the surrounding 4 cells (horizontal and vertical) adding one to each. Gradually the matrix fills up and the knock on effect of filled cells then filling neighbours and so on causes avalanches or cascades to take place over many different scales. Once such an avalanche exceeds in size the total number of cells we have reached self-organised criticality under my definition, loops form in the system. Past the edges of the map the units disappear and are lost from the system. An option is given to flow units at random rather than symmetrically.
This program shows that even for unconnected systems undergoing very simple rules self-organisation can occur once they are pushed from equilibrium. The time required for this to happen depends on the distribution density but can be very quick for the drip feed option. The program gives good feel for the time dynamics of these systems, even on a slow processor. The behaviour shows the power law distribution of perturbations typical in systems at the edge of chaos - too little stress gradually builds up, too much collapses back down, the system automatically balances itself at the critical point or phase boundary.
---
LOTKA-VOLTERRA MODEL V1.1
Somewhat different, this simply graphs in time the co-evolution of two populations following the equations designed by Lotka and Volterra.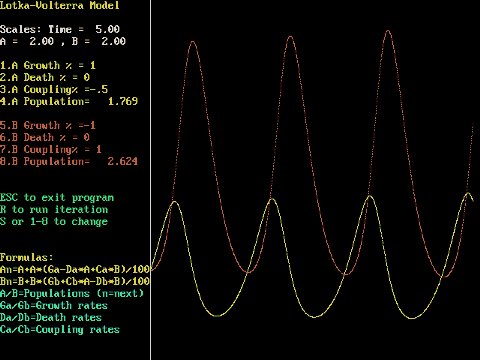 Each equation has a population A or B, a growth rate Ga or Gb, a death rate Da or Db and a coupling rate Ca or Cb.
A population growth of 10 means an increase of 10% a cycle, but it will also die out at some rate eg 0.1 allows 0.1% to die each cycle. The coupling is the effect on population A of B, and on B of A.
The standard model assumes A is the prey, B the predator. So the coupling for A is negative (B eats it!) and reduces the population. Similarly the coupling for B is positive (A provides food) and B will increase. Depending upon parameters the system can settle, oscillate or go chaotic. The default looks to cycle evenly but does in fact become wildly erratic in time.
Alternative models are possible with the same formulae. Both couplings can be made negative - simulating an arms race, or both can be positive - simulating co-operation, mutual benefit or symbiosis.
---
Under development...
AGENT NETWORK V1.0
A fully functional version is currently under development, but many options are currently available as an ongoing preview in four types:
General Net
This simulates a set of agents connected with a specified number of links in either symmetrical or small-world arrangements. The network is generated randomly to model many stochastic 'encounter' scenarios. The links can be 1-way or 2-way, they can be dynamically added, deleted or rearranged. Connections can prove to be multiple on any link (strength related, as in neural nets) or single. Displays of the layout by link strength or distance are possible, links going from one side of the (wraparounded) display can be shown or hidden (they are dotted if they exceed the specified distance). Wiring can be displayed or hidden. Initial display shows the strength of the links and nodes in terms of connections. The node display dynamics changes as the network is asked to evolve (in one of four current modes).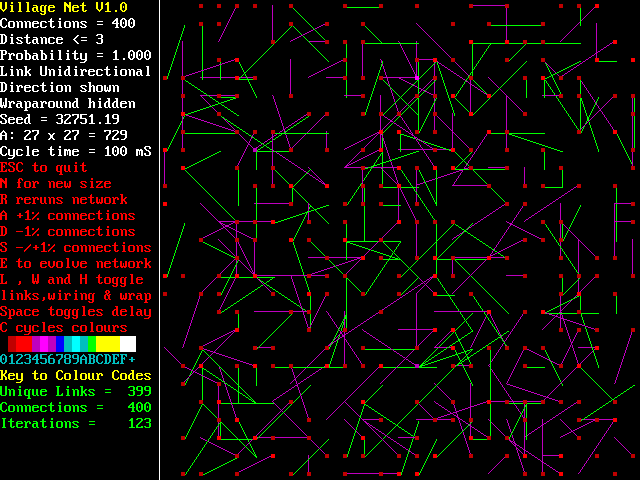 Synergic Net
Synergy relates to the emergent benefits of working together, i.e. cooperation, essential we would say to any sustainable society. This model simulates a 4 by 4 fully connected bidirectional matrix (16 agents, 120 links). Each agent is initialised with a random 15 bit number. The processing currently consists of scanning all links and comparing, bit by bit, the two agents involved. If they agree (i.e. are synergic) no action is taken. If a bit mismatches then probabilistically the bit is set to match in both agents (simulating compromise or agreement). This repeats until all agents are synergic with all the others. As the processing proceeds the links are coloured as to how synergic each pair of agents currently are, and the nodes as to how synergic each is to all other agents (averaged out). The percentage synergy is dynamically shown and when this reaches 100% the number of iterations to reach synergy is shown for reference and 'Auto Member Swap' is switched on. This changes a single random agent to a new randomized one every 50 cycles - simulating one team member leaving and being replaced by someone with different views.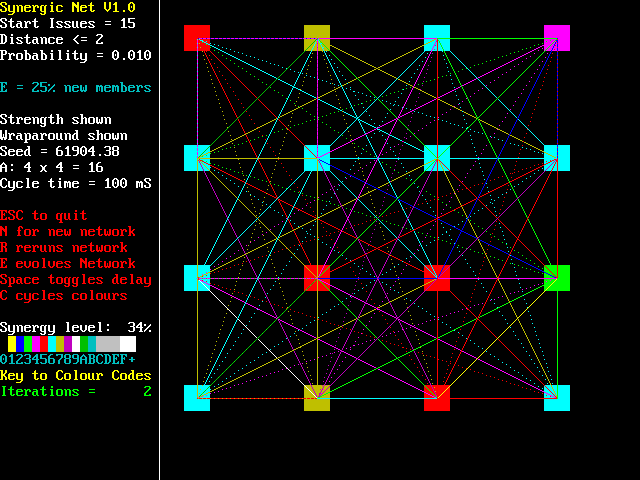 Ortegrity Net
Ortegrity (or Organizational Tensegrity) is an hierarchical synergic method of organization suggested as fundamental in nature by Timothy Wilken of SynEarth, for more technical details on both OT and Synergy see his detailed description. In this model the base matrices are 2 x 2 (4 agents, 6 connections). This is Level 1. One of these agents then forms a part of a Level 2, 2 x 2 matrix - which links 4 base matrices. This is repeated at successively higher levels, linking 16, 64, 256 and 1024 to arrive at an overall 4096 interconnected agents (8190 connections). The number of contentious issues is specified. Each matrix then seeks to arrive at synergy in turn (6 steps at a time). Three methods are currently available. The number of adjustments to agent states is dynamically shown and when this reaches zero the number of iterations to reach synergy is shown for reference and 'Auto Issue Generation' is switched on. This initiates a single random agent every 20 cycles as supporting a new random issue.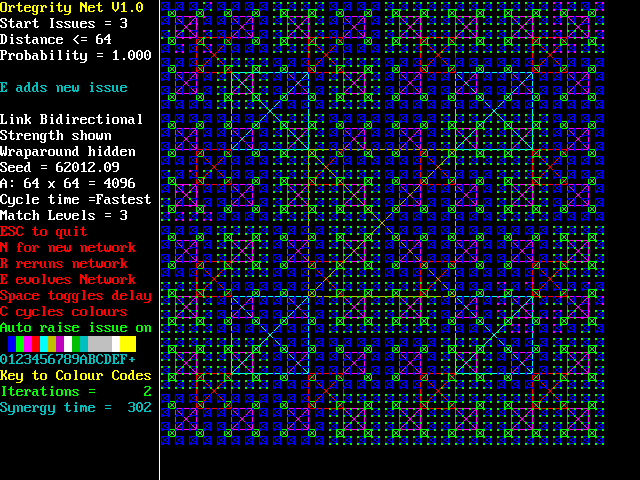 Culture Net
This simulates a selectable number of cults randomly initialised. Each cycle, the agents randomly look to another agent and probabilistically adopt their cult. The network evolves in time, looking rather like the 'Game of Life" (which I suppose it is !), often settling down to a single dominant cult (due to positive feedback) - less likely if the probability of 'conversion' (agent susceptibility) is set low or is made population or threshold dependent (adding negative feedback). These 'cults' could be religions, fashions, fads, enterprises or any form of competing social 'beliefs'. On a different level this can also be regarded as a simulation of how different ideas compete for dominance in the brain (e.g. Calvin's 'Darwin Machine"). The number of existing cultures is shown dynamically, as is the time for all variety to die out. If this happens 'Auto Deviancy' is switched in which a single random new 'deviant' is introduced to a random agent every 10 cycles to see if this new cult 'catches on'.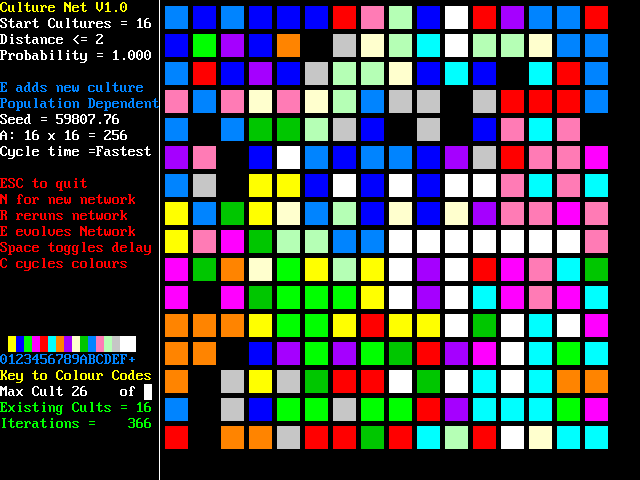 ---
These programs are provided free for any non-commercial use. I can't guarantee warranty or support of any sort, but if any bugs are found (and there are always some...) please EMail details to me and I'll try to correct.
DOWNLOAD BASIC SOURCE CODE NOW calressw.zip (57k)
DOWNLOAD EXECUTABLES NOW calresex.zip (498k)

Chris Lucas
Complexity and Artificial Life Research, New Mills, Derbyshire, U.K.



Page Version 4.83 June 2012 (original August 1997)