<!AR complex system, complexity theory, self-organisation, attractors, artificial life, chaos, cellular automata, fractals, genetic algorithms, neural network, philosophy, nonlinear science>


The CALResCo Tour Bus
Welcome to the Tour Bus !

Please take your seats (all have a panoramic view for your added pleasure) and the guide will begin...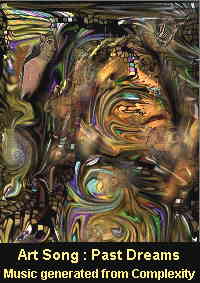 This tour takes in all our major sights to ensure that you do not miss any of our delights. Just press the

button to start our bus and to navigate through the site. You can return to the previous page using the

button. The

button takes you to the start of the Images/Themes/Exhibition sections if you are in any of those, otherwise it returns you to our Home page. The other buttons allow you to go directly to any section of the site from the current page.
This tour is especially recommended for those who can access their browser cache offline as it allows you to quickly scan all our pages. For visitors with limited time you can stop the tour at any point and resume at a later date, or you may directly start at any page in the itinerary.
Note the Icons before each major section, these appear on the Navigation bars on each page and are an easy way to jump around the site (ed: if you get bored we will give a prize to anyone finding the shortest route between all our pages - The Travelling Visitor Problem !).
Itinerary
First let's deal with the pages we're not going to visit (the seedy side of town) Still with us ? Great ;-)
Nearly finished now, and time for your rewards...

If you haven't taken the tour yet then press this button to do so

. If you get lost or confused during the tour just click

to come back here and re-orientate yourself, or to jump directly to a different position ;-)

Thank you for your interest in our site and do keep in touch, we aim to improve with every update ! Watch out for the

signs, or visit the

page regularly. We post details of major updates in the relevant Newsgroups, but smaller changes are not advertised except in 'What's New'.


Page Version 4.83 July 2006 (Original November 1997)